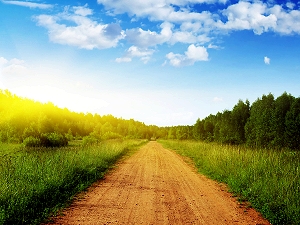 Hillsview Hike
Submitted by:
Kathy Highmoor

"One more step along the world I go"
– Sydney Carter


On Easter Monday, April 9, 2007, I laced up my runners, walked out our lane and proceeded to walk the country block (4 miles) This was the first day of what was to be a 90-day Sabbtical. One of my personal goals for this sacred time was to work on physical conditioning with the hope of becoming physically fit.
Very quickly I discovered that I felt much better, I thought more clearly, I had much more, not less, energy, I toned up and over time I dropped 30 pounds. The walk became a routine part of the day– always outdoors at 6:30a.m., 7:00a.m. on weekends, and for one hour and for me, 6 kilometers an hour.
As the excitement of a new habit, and I would say a new hobby wore off, and I hit a dip, a valley, I sat down one evening to watch the 6 o'clock CTV news. At that time they would feature these good news stories. This story was about a woman from Asherne who had that day hit her 1000th day for consecutive walking. My eyes and ears peeked. I listened carefully as she told of sitting in a doctor's office presenting with one of a number of her medical conditions. The doctor eyeballed and said "You need to walk". She said but "I can't walk". The doctor repeated, "You need to walk". She said that word struck a chord with her. So the next day she got off the couch walked part of a block and returned to the house. The next day she went a little farther and then a little farther and it did not take long til she was walking 5 miles everyday. She then said her blood pressure is now within the normal range, her diabetes was under control, her back problems resolved and she was 130 pounds lighter. She looked great. She is nameless to me but she deeply touched me. I said, "Wow! I can keep going!". And I have. I have walked 1822 consecutive days. I have walked in 9 provinces, 9 states, and 64 different places amounting to 11,319 kms. Walking is low cost- simply a pair of runners and the right clothing for the day. It is low risk or should be. I did freeze a toe and hurt a tendon in a foot on the walking trail.
Walking has been a lifeline for me in various ways:
1. Physically- I am in decent shape and have good energy and stamina for all I face in the course of a day.
2. Mentally and Emotionally- I have used the walking time to sort through issues I am dealing with. I have filled the ditches along the road with mental and emotional garbage and sorted through thoughts and feelings that needed exploration. During the first year of walking my Mom passed away. As I walked the ensuing days so many thoughts of Mom came to mind, some mornings she spoke in my ear as though she was walking beside me. I shed many tears on the road during those months and I smiled and I laughed as I remembered her life and life with her. Literally, I walked through the valley of my grief.
The morning walks following our grandson, Keaton's, birth I skipped along. I joyed in putting on the new role of "Nana" The joy he brings to my life puts a spring in my morning step.
3. Spiritually- I have met the Creator countless times and on a daily basis on these walks. I have joyed in sunrises that vary in the passing season, full moons that clearly light the darkness in winter, the river overflowing its banks in the spring, and the lady slippers, tiger lilies, and many wild flowers of summer. And the animal kingdom has kept me company: deer, skunks, mice, coyotes, foxes, lynx, dogs, cows and horses. I have been amazed that on a daily basis the same road changes.
My spirit has been fed sharing conversation with a neighbour when she joins me for the walk. We share much as neighbours and the steps fly by and all too soon we arrive back at her gate.
So in January as I looked ahead in the calendar I saw Easter Monday, April 9th, 2012. That date would see 5 years of walking for me. I had a strong sense that I wanted to celebrate in a memorable way. I wanted to invite others into a time of celebration of health and well-being. In a converstation with a friend one day the Hillsview Hike concept was born. From there details have been worked out and everyone –that's you– is invited to participate in the way you choose. Hillsview Hike Day begins with a Pancake Breakfast at Bowsman United Church-8a.m, April 9th. Walk begins at 9:00a.m., heading south to Swan. We will stop at Swan Valley Funeral Services where Hillsview will serve refreshments. If you are not walking but see yourself in an encouraging role come out, and speak a word of cheer to the hikers. Vehicles may be left in the parking lot at Swan Valley Funeral Services. The Hike will then head east to Minitonas and its destination of Knox United Church. There fruit, chili and a bun will be waiting for walkers, community members and supporters. There is no charge for the hike or food. This is not a fund-raiser. If you only wish to walk some of the distance on the hike, rides will be provided back to your vehicle, home, etc. If you wish to hike, rest, hike, a people mover will be along to keep you current with the hike.
So on April 9th- lace up those hiking boots/runners and step out to be a part of the 2012 Hillsview Hike.
"Walk with me, I will walk with you…."
-John S. Rice