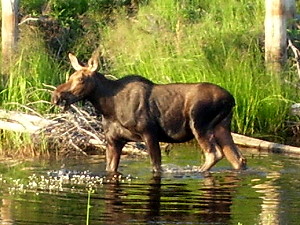 Province of Manitoba Media Release |
Manitoba Conservation and Water Stewardship recently completed two aerial surveys in west-central Manitoba that show the moose population in the Porcupine and Duck mountain regions remains low but stable.
Several factors can influence the number of moose seen during surveys such as snow depth, temperature and time of year. The 2012 surveys were done by department biologists, natural resource officers and local First Nations.
The 2012 results, combined with results from future surveys, will be used to track the progress of moose population recovery in west-central Manitoba.
In March 2011, the province invested $800,000 in a moose population restoration plan including funding for the surveys, increased enforcement, road-access management and wolf-management surveys.
As part of the overall plan, the department has received more than 70 wolf tissue samples from registered trappers from the Duck and Porcupine mountain and Swan-Pelican lake areas this winter. These tissue samples will be analyzed to determine the diet of wolves and what percentage of their diet is made up of different species of animals.
Moose hunting has been closed in game hunting areas in the Porcupine and Duck mountain regions, and partial closures have been put in place in parts of eastern Manitoba.
Manitoba Conservation and Water Stewardship continues to work with regional forest companies to ensure forestry activities do not affect high-density, big-game areas. This includes reducing new road access and closing some existing roads. The department is also continuing consultations with local First Nations and Metis communities, and the regional moose advisory committee to discuss future steps to restore the moose population to historical numbers.
ESTIMATED NUMBER OF MOOSE
IN THE DUCK AND PORCUPINE MOUNTAIN REGIONS
Year
Porcupine Mountains
Duck Mountains
2012
819 +/- 18 per cent
(between 672 and 966)
1,466 +/- 15 per cent
(between 1,246 and 1,686)
2010
1,122 +/- 20 per cent
(between 898 and 1,346)
1,349 +/- 16 per cent
(between 1,133 and 1,565)
2007
731 +/- 21 per cent
(between 577 and 885)
2,008 +/- 14 per cent
(between 1,727 and 2,289)
Since the range of numbers overlaps between the 2010 and 2012 Duck and Porcupine mountain moose population estimates, this suggests the populations, while low, are stable with no increasing or decreasing trends.
More information on moose conservation initiatives is available at:
www.manitoba.ca/conservation/wildlife/moose_initiative.html