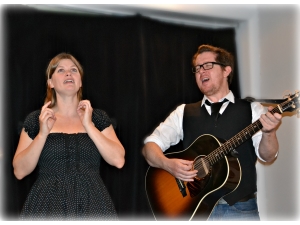 Story by:
Nancy McLennan |
February of 2012 appears to be a turning point for Valley House Concerts. Since the House Concerts began in 2008, over 900 people have attended the shows and professional musicians have earned almost $13,000 in revenue.
Pictures by Micheline Carstairs (Click any picture for a larger version)
On Wednesday (Feb 15), Juno-nominated folk band, The Once, from Newfoundland wowed a capacity crowd at Fabriculous, the newest retail location on Swan River's Main Street.

Business owner, Wendy Vanderwalt had attended several of the Valley House Concerts and stepped up to host her first show.


A record crowd filled the space in Fabriculous while the window display served as an excellent stage for our singers.

Introducing the musicians are Wendy Vanderwalt
and Glenda Foster, owners of the new Fabriculous
where "The Once" concert was held.
"We were going to host it at the house, but when the business fell into place, it just seemed like a natural fit to do it at the store," she said. Business partner, Glenda Foster agreed and her post-show facebook post said it all: "All I can say about the concert is WOW WOW WOW!!! Very good crowd, very very very great band, lots of fun."
The Once sang true folk stories of the sea and of life. One minute, they had the audience mesmerized with their haunting harmonies and the next the crowd was clapping and laughing at their classic east coast humor.
| | |
| --- | --- |
| Telling a passionate story through music! | The lead singer, Geraldine has an incredible voice and her stories of growing up as a fisherman's daughter managed to bring tears to some in the audience. |
| | |
| --- | --- |
| Phil jaming it out on the guitar and vocals. | Andrew, an amazing musician whether it's the banjo, mandalin, or it seems any stringed instrument at hand. |
But The Once isn't the first Juno-nominee to entertain. In 2010, John Wart Hannam played and in 2009, it was Juno-winner, The Good Lovelies.
Most of the House Concert performers have found their way to The Valley through Home Routes, a Winnipeg-based folk-concert promoter that has a dozen house-concert circuits organized across Canada and even into the USA. "They've come from as far away as Boston and Brazil to entertain us," said Nancy McLennan, founding host for the Valley House Concerts, "and the music has been varied from Latin and Asian to country and spoken-word poetry with music." There hasn't been a disappointment.
| | |
| --- | --- |
| The nice thing about the homeroutes concerts is the intimate setting and the opportunity to share stories with the musicians! This guest is getting the cd's she purchased autographed by the artists! | |
But McLennan's eyes light up with she talks about the spin-offs that have occurred because of the audience-base that has grown with the house concert series. "We have a scene!" she declared. "Our own song-writers and musicians are staging concerts now, and the audience has responded with the same enthusiasm they show for the out-of-towners."
Local contemporary folk-band black-eyed SUZIE has taken the lead. They staged their second big show on February 11 to a full house and invited singer-songwriter, Karryn McGregor as the opening act.
| | |
| --- | --- |
| Mark Matejka of black-eyed SUZIE, introducing his group and welcoming guests of Valley House Concerts in Minitonas! | Karryn Chotka MacGreggor opeing the show for black-eyed SUZIE. Karryn has some serious talent of her own and kept everyone engaged as she belted out her tunes. |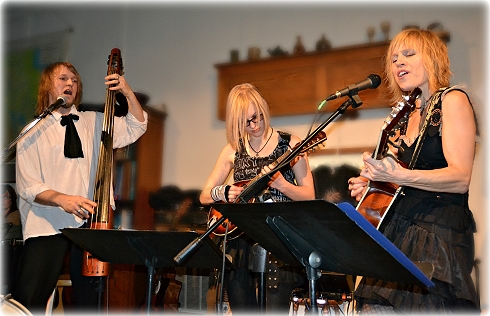 A great saying comes to mind, "A family who plays together, stays together"

"It is time to step out," said Christine Marek-Matejka, lead singer of the group. "We owe it to our future Valley artists to record and tour, and let the rest of the world know who we are. But it starts here. Our audience has been fantastic!" To bolster the valley performers, black-eyed SUZIE has taken the initiative to host a monthly coffee house. "We'll play and we'll have other musicians too," she said. "We are all so ready!"


Christine Marek-Matejka! What better way to celebrate her birthday than to play for a most appreciative audience!

Mark Matejka whoos the audience as he manages to use avery limb to play an instument, and sing and harmonize with Christine while doing it!

The two black-eyed SUZIE shows had been the biggest shows hosted by Valley House Concerts, but The Once toppled their record.

"Capacity crowds is a good problem," said McLennan. "If we start to sell-out, we can host more shows, and host more performers." She noted that Fabriculous wasn't the first enterprise to host shows.
"Remember? Wildflower had a great 2010 summer music series on their patio," she boasted. The Friendship Centre, Harley House, The Museum, and The Library have all hosted shows," she quickly listed them. "And we are always looking for places that can fit about forty or fifty people for an acoustic show. This isn't going to end."
| | |
| --- | --- |
| Good vibes got some audience members up and dancing! | Combining voices to finish off the night! |
Because the location for the house concerts changes, most of the promotion for these shows has been through word-of-mouth and direct email. All shows are also promoted on the Valley House Concert facebook page.