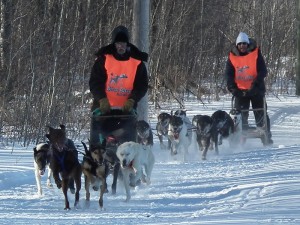 ValleyBiz Story |
When Gerry Stevenson moved here from The Pas 13 years ago, he turned his passion for sled dog racing into an annual community event. The 13th Annual Birch River Sled Dog Race took place this weekend with 9 teams participating.
Click any picture for a larger version.
Following a circuit that includes the World Championship Sled Dog Race at the Trappers Festival in The Pas next weekend, entrants this year came from as far away as the Northwest Territories. Past races have included teams from Quebec, Alaska and other US States with up to 18 entries.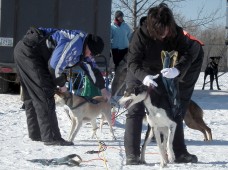 The 8 dog teams run the 12 mile track in less than 40 minutes, and reach speeds over 20 mph.
The well groomed track runs beside the Lenswood Highway allowing spectators to follow along with the race from the warmth and comfort of their vehicles.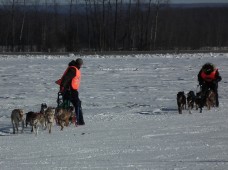 Gerry Stevenson glances back (right) to check his position as he nears the end of the race.
Moments after winning the race, he pauses to praise his dogs before sharing his victory with family and friends.
Friends, family and community spirit make the sled dog races a warm and welcome place to spend a cold winter day.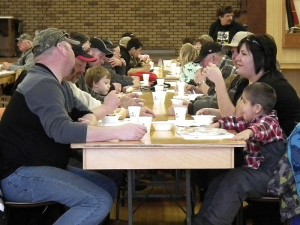 The pancake breakfast before the race and chili and a bun afterward are served with warm smiles and friendly hospitality.

The sled dog races are a true family event and the cold weather didn't stop the kids from spending some time outside while waiting for the race to start.
Race Results
1st, 37:40 Gerry Stevenson, Birch River, MB
2nd, 37:48 Dexter Lafferty, Fort Resolution, NWT
3rd, 38:25 Norman Stevenson, The Pas, MB
4th, 38:28 Matt Legal, St. Mallow, MB
5th, 38:36 Cameron Campbell, Kinosota, MB
6th, 40:36 Anna Bolvin, Porcupine Plain, SK
7th, 40:33 Dave Hochman, St. Mallow, MB
8th, 40:47 Tony Commodor, The Pas, MB
9th, 43:17 Barry Coutts