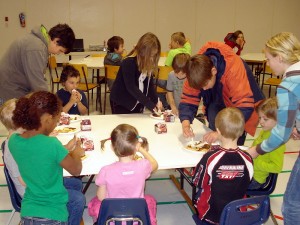 Submitted Story: Community Bible Fellowship Christian School would like to thank Jessica Brady, from Agriculture in the Classroom, for coming to our school and providing our students and staff with breakfast from the Made in Manitoba Breakfast Program on Nov. 24th.
Click on a picture for a larger version.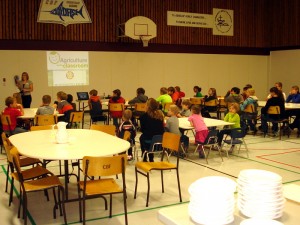 The program expanded this year to include 30 new rural schools in Manitoba. Along with Community Bible Fellowship Christian School, Taylor School and ESRSS also took part in the program.

It is an interactive program that travels across Manitoba and prepares hot breakfast to students and helps make connections to where their food comes from. Students took part in an educational presentation where they explored the agricultural industry. Our breakfast menu included: Pancakes, pork sausages (from HMS), honey (Manitoba Bee Maid Honey), chocolate milk (Manitoba Milk), and hard-boiled eggs (Countryside Farms).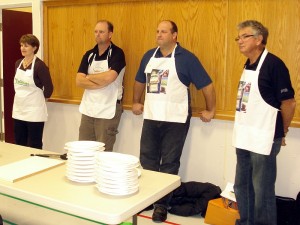 We want to thank the local volunteers who joined us and helped serve the students and staff. Volunteers included: Dale Argue, Elmer Friesen, Katarina Rinsdorf, and Jason Ferris.

Special thanks go out to some major sponsors of this program including: Cargill, Manitoba Canola Growers, Monsanto, Richardson, Manitoba Pork, Mosaic, Ag Days, RBC, Pioneer, Manitoba Cattle Producers Association and the many other supporters.
CBF Christian School