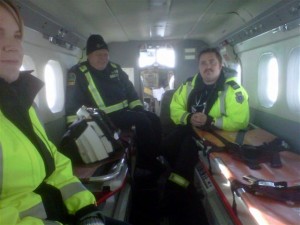 ValleyBiz Story |
On Monday, November 7, 2011 a trial run of the new Air Transport Program to Swan River was conducted by Manitoba Government Air Services and Manitoba Health.

Submitted photos. Click for a larger version.
Local medical service providers were provided with the opportunity to tour the aircraft and obtian operational details of the program.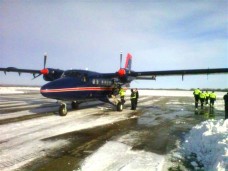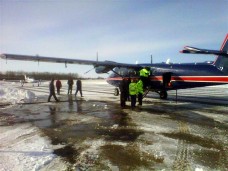 Prior to its acquisition by Manitoba Government Air Service, the twin otter pictured above was the personal aircraft of Max Ward of Wardair, which is referenced by the 'WA' in the reg.# C-FWAH.
The following media release provides additional information on the Air Transport Program:
Province of Manitoba Media Release: October 27, 2011 | Patients in rural communities requiring specialized diagnostic tests and medical procedures will soon be able to take regularly scheduled flights to Winnipeg for care rather than travelling for hours on the road in an ambulance, Health Minister Theresa Oswald announced today.
"For patients who need specialized medical tests or procedures not available in their home community, a long drive in an ambulance can be uncomfortable and inconvenient," said Oswald. "We're pleased to follow through quickly on this important commitment to Manitobans to offer more comfortable and faster transportation for rural patients."
Currently, rural patients requiring inter-facility transports to a larger urban centre for more specialized care not available in their home community are transported in a road ambulance. There are approximately 20 inter-facility transports into Winnipeg every day.
Under the new air transport initiative, regular flights will be scheduled for patients facing longer ambulance rides of two and half hours or more from their local hospital or personal-care home to Winnipeg for testing and treatment. Each flight will be able to accommodate up to four patients and will be staffed with two paramedics and two pilots. As an extension of the existing inter-facility transport program, patients will not be charged any fees for the flights. Inter-facility transport fees were eliminated in 2006.
This change will also allow more paramedics to work in their home communities, respond to local emergency needs and reduce long work hours spent transporting patients.
"A long-distance transport requires both an ambulance and an emergency medical service team to be out of service for the duration of a trip," said Randy Lock, chief executive officer of the Interlake Regional Health Authority. "This new program will free up rural paramedics and ambulances in our communities while giving our patients a faster and more comfortable ride."
The program officially begins mid-November and will transport patients primarily from the Parkland and Assiniboine health regions. Some patients will also be able to access scheduled flights from Brandon and communities in the northern Interlake region. The initiative will be delivered in partnership with the Medical Transportation Co-ordination Centre in Brandon, Government Air Services and participating regional health authorities. It is expected that up to three flights a day will be scheduled.
All patients requiring urgent and emergency care currently have access to air transfer using an air ambulance, LifeFlight and the new STARS ambulance helicopter. Patients in northern Manitoba have access to air ambulance transport for non-emergency care through the Northern Patient Transportation Program.
Inter-facility transports move patients between health-care facilities for diagnostic tests or treatment, rehabilitation or recovery. Physicians will approve transfers for patients who need medical care during the trip but whose condition is non-critical.