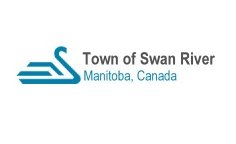 The Council of the Town of Swan River met on Tuesday, September, 6th, 2011 at 7:30 p.m. in the Town Council Chambers with Mayor McKenzie presiding and Councillors Bobick, Friesen, Jacobson, Sakal and Delaurier present.
Delegations:
Duane Whyte, regarding Dr. Recruitment and Retention and the need to have a group that would introduce them to the Community.
Mark Munro, Swan Valley Stampeders Junior A Hockey Club requesting permission to install an ATM in the Centennial Arena. The matter was referred to the Swan River Parks & Recreation Commission.
Minutes:
1.
RESOLVED that the Agenda for the September 6th, 2011 meeting of Council be received as amended.
Carried:
2.
RESOLVED that the minutes of the August 16th, 2011 regular meeting and the August 31st, 2011 special meeting of Council be adopted as received.
Carried:
3.
RESOLVED that Council approve the proposal to subdivide Pt Lots 3 & 4, Block 1, Plan 2315 (Jake Reimer Enterprises Ltd.) subject to the following conditions:
1) That Variation Orders be issued reducing the site width from 100 feet to 55 feet for each lot/unit.
Carried:
4.
RESOLVED that the following outstanding Utility bills be added to the property taxes:
Account
10700000.06 – 225 Crescent Dr – Tax Roll 0249200.000
36360020.05 – 1207 1st St N – Tax Roll 0185700.000
11680040.01 – 204 2nd Ave S – Tax Roll 0084600.000
30380090.06 – 319 5th Ave S – Tax Roll 0090000.000
30380100.06 – 319 5th Ave S – Tax Roll 0090000.000
Carried:
5.
RESOLVED that Shirley Bateman and Julie Fothergill be authorized to attend a "Working with PSAB" workshop being held September 8th, 2011 in Brandon, MB.
Carried:
6.
RESOLVED that the following dump fee invoices be added to taxes.
Roll #253100.000 . Inv #5004
Roll #253100.000 . Inv #5617
Carried:
7.
RESOLVED that the Superintendent of Works and Building Inspection Reports be received.
Carried:
8. RESOLVED that the assessment alterations as listed by Manitoba Local Government Assessment Services dated August 18th & 24th, 2011, be made to the 2011 Tax Roll under authority of Section 300(6) and 326 of the Municipal Act.
Carried:
9.
RESOLVED that the Mayor, Councillors, Chief Administrative Officer and Assistant Chief Administrative Officer be authorized to attend the AMM Conference being held in Brandon, MB November 21st – 24th, 2011.
Carried:
10. RESOLVED that the August, 2011 R.C.M.P. Report be received.
Carried:
11. RESOLVED that the month of September 2011 be proclaimed Muscular Dystrophy Awareness Month.
Carried:
12. RESOLVED that the accounts as follows be hereby approved for payment:
(1) General Accounts from Cheque No. 10186 to No.10289 for a total of $149,332.68
(2) Payroll Account from Cheque No. 2687 to No. 2697 for a total of $92,490.10.
Carried:
13. RESOLVED that, pursuant to Section 152(3) of The Municipal Act, Council go into Committee and close the meeting to the pubic.
Carried:
14. RESOLVED that, pursuant to Section 152(4) of The Municipal Act, this meeting be re-opened to the public.
Carried:
15. RESOLVED that the offer to purchase Lot 15, Block 3 Plan 2554 by Lorne Hrappstead be approved as per Schedule "A" attached.
Carried:
16. RESOLVED that this Council Meeting now adjourn.
Carried: