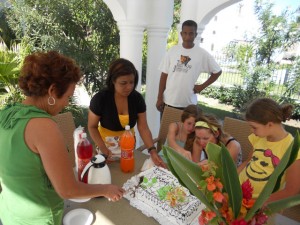 ValleyBiz Story |
When a local couple invited their new friends from the Dominican Republic to visit them at their home near Benito they had no idea what strange turn of events would occur after their arrival.
Submitted Photo
It was while on vacation in the Domincan Republic this past February that Valley residents, Scott and Cindy Tibble, met Santos Nunez and his wife, Leonarda Bonilla de Nunez.
During their time in the Dominican Republic, the Tibbles got to know the couple well. Santos is an employee of a condo development owned by Scott's employer and Leonarda is an esthetician. Having helped in the construction of a beautiful gazebo, which Cindy was admiring near the pool, Santos volunteered to help build a similar one if he ever came to visit.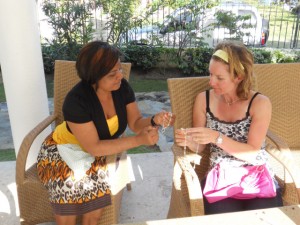 Cindy's birthday took place during their trip so Leonarda organized a birthday party for her and the couples celebrated it together.
Leonarda is pictured here giving Cindy a birthday present.
Submitted Photo
After returning from their vacation, the couples kept in touch via email and the Tibbles sent a letter of invitation for them to come for a visit. On September 10th, Scott and Cindy met the couple at the airport. Santos indicated that he had a good flight from Puerto Plata to Montreal, but from Montreal to Winnipeg he did have an anxiety attack with some breathing problems. After spending the night in Winnipeg, the two couples drove back to the Swan River Valley where they had dinner and met Scott's parents. Scott and his Dad took Santos on a tour of their farmland on Thunderhill road, then continued on to some of their property in Saskatchewan.
Santos began to complain of stomach pain and indicated that he wanted to return to Scott's home. As they started driving he jumped through a side window into the back of the truck, then jumped out and sprinted off across a pasture. As RCMP tried to locate Santos, Scott and Cindy also searched for him until 4am and continued to search until he was found, 4 days later.
While Santos was missing and unavailable for comment, one radio station stated that he had "feared for his life". This unfounded claim frustrated Scott as he and Cindy had opened their home to the couple, as friends, and even provided financial assistance to Leonarda when she was facing deportation during the time Santos was missing.
Documentation seized suggests intent by Santos and Leonarda to seek employment in Canada. Scott suspects this was likely a hidden agenda to the couple's visit, however he still feels they were a nice couple and that their friendship seemed genuine. While there are still a lot of unanswered questions Scott sums up the ordeal by saying, "It's been bizarre."