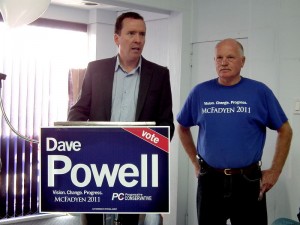 Media Release | Hugh McFadyen and the Manitoba Progressive Conservatives will provide $1.5 million to support a new CT scanner for the Swan Valley Health Centre. McFadyen made the announcement while campaigning with Manitoba PC Swan River candidate Dave Powell.
Click picture for a larger version.
The new scanner would improve the level of care available to the families in Swan River and the surrounding area.
"Throughout this campaign we have been sharing a plan based on the priorities Manitobans have been sharing with us. The people of the Swan River constituency are concerned about a lack of health care services in the area," says McFadyen. "We know we can't fix everything overnight, but we can take some concrete steps forward. Today we are making a realistic and achievable commitment to add a CT scanner to the Swan Valley Health Centre. A CT scanner is a powerful diagnostic tool, and bringing this tool closer to the families of Swan River and the surrounding region will make a positive difference."
Nearly 500 scans a month are performed out of the Dauphin Regional Health Centre. Many of those scans are for residents of Swan River and the surrounding area. The new scanner in Swan River will mean less travel and better service for those families.
"There are too many instances where it seems you have to leave Swan River to get medical treatment." says Don Thompson, previous Hospital Administrator of the Swan River Hospital. "Hugh McFadyen' s plan will help expand services available here in the Swan River area and that is positive news for the families in this area."