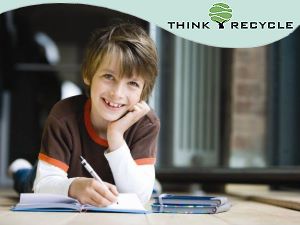 Submitted by: Jocelyn Beehler |
The Fundraiser that Costs You Nothing?
It is true. Community Bible Fellowship Christian School is a part of a fundraising effort that actually costs $0.00.
Here is how it works.
ThinkRecycle is an organization that collects ink cartridges, cell phones and digital cameras and reuses the ones that can be reused and properly disposes of ones that cannot. They are trying to clean up the environment by reducing the amount of electronic waste going into our Canadian landfills. They have also teamed up with The Tree Canada Foundation. For every 24 qualifying ink cartridges a tree is planted. To date over 50,000 trees have been planted through this program.
Schools and other charity organizations can sign up to collect these items and send them in to ThinkRecycle. That is where we come in. CBFCS has signed up to help the environment reduce waste and plant trees…and of course, we love any fundraising where we don't have to sell anything. ThinkRecycle pays the school for every ink cartridge, cell phone or digital camera that qualifies. Each item recycled can give us anywhere from $0.25-$30. We don't even have to pay shipping and handling.
Here's where you come in:
We are looking for individuals, businesses and organizations to save used ink cartridges, old cell phones and digital cameras. (Soon we'll be recycling laptops, Ipods andMP3 players as well)
Call us at 734 2174 and we'll pick up your used items or you can drop these items off at our school. We are located on the west side of Hwy 83 A (between Flaman Rentals and the Green Acres Campground)
If you already recycle your ink cartridges then we applaud your forward thinking and environmental awareness. Double check with your ink supplier to find out if you are receiving a financial kickback for recycling your used cartridges with them. If you are not getting any financial benefit from recycling with them, then consider recycling with us.
We have been participating in this fundraiser for several years now and will continue through this school year as well. In the past, we mailed about 6 large 30lb boxes of used ink cartridges. Our goal for this coming year is to send off a minimum of 1 large box per month. CBFCS uses the proceeds for little classroom extras – like purchasing new technology, upgrading our library, adding new items to our gym equipment and other classroom needs.
Thank you for helping the environment and supporting a great cause.
CBFCS