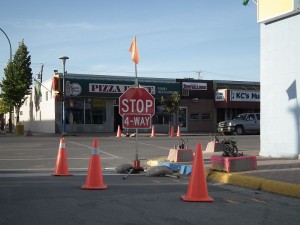 Province of Manitoba Media Release | Manitoba Infrastructure and Transportation advises that from Wednesday, Sept. 7 until approximately Sept. 27, some traffic delays may occur on Main Street in Swan River due to required traffic signal repairs at two intersections.
To minimize disruptions to motorists, work on Main Street will start at the Fifth Avenue intersection on Sept. 6 and about a week later will move to the intersection at Sixth Avenue. During construction, both intersections will remain open to vehicles and will be controlled by four-way stop signs.
Motorists are reminded to use extra caution when approaching any construction zone and while passing workers and equipment.