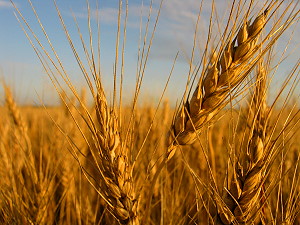 Crop Report Prepared by: Manitoba Agriculture, Food and Rural Initiatives GO Teams & Crops Knowledge Centre September 6, 2011 |
Northwest Region
Scattered showers near the start of the week and heavier rainfall near the weekend has put a halt to harvest operations over most of the Northwest Region. Soil conditions are rated as adequate to excessive in some areas.
Spring wheat harvested to date is good quality with very low incidence of disease. The heavy rainfall has resulted in more lodging of wheat acres. The wet conditions may also result in quality issues, such as bleaching, in some wheat fields.
Approximately 30 to 65% of the canola crop was swathed with about 10% combined. Reported yields range from 25 to 40 bushels/acre. Canola fields continue to be monitored for bertha armyworm and diamondback moth. A heavy infestation of lygus bugs is confirmed in a canola field near Laurier. Sclerotinia is evident in some canola fields throughout the region.
Winter wheat planting in the Dauphin area is underway with the number of planted acres expected to be above normal. Some of the winter wheat crop has emerged.
Second cut hay operations were near complete when halted by the rain. However, the rainfall benefited growth on pasture fields. Surplus pasture is being hayed. Silage operations in the southern part of the region are just beginning.