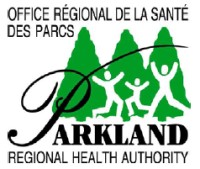 PRHA Media Release | Swan River- The Parkland Regional Health Authority (PRHA) held its Eighth Volunteer Service Awards in conjunction with its 2010/2011 Annual General Meeting on August 29, 2011. The information meeting was held in Swan River at the high school (SVRSS). PRHA Board Chairperson Mary Hudyma was thrilled with the response to the awards presentation. "The Board reviewed the nominations and contributions of a number of worthy individuals and groups. As you can appreciate, finalizing the list of award recipients was a very difficult task. Although many nominations were given extensive consideration, we were able to come to a consensus on this year's awards," Hudyma stated.
The Board presented awards to the following recipients this year:
– Simone Worrall, Ste. Rose (East District)
– Dale Yeo, Roblin (West District)
– Barbara Durston, Dauphin (Central District)
– Loretta Fleming, Winnipegosis (Central District)
– Maxine Zamzow, Swan River (North District)
– Joan Nemetchek, Swan River (North District)
– Swan Valley Food Bank, Swan River (Regional Group Award)
Recipients received a plaque honouring their efforts and achievements. The PRHA will make a $100 donation, in the recipient's name, to a charity of their choice. Charities that were named this year include: (the) Canadian Cancer Society, Ste. Rose Palliative Care, Roblin and District Community Foundation, Swan Valley Food Bank, and the Dauphin Health Care Auxiliary.
"The Board thanks all of the people who took time to nominate individuals and organizations this year. We especially thank all of the nominees for their invaluable contributions that they perform every day for the betterment of health within our communities. We urge all Parkland residents to submit a nomination for next year, even if it means re-submitting a nomination that wasn't successful this time around," Hudyma added.
The meeting was well-attended, with about 70 people taking in the event. We undertook a presentation of highlights from the 2010/2011 fiscal year (April 1. 2010- March 31, 2011). We also looked ahead to some future directions and challenges. The Region finished the year in a small deficit position of just under $278, thousand. The previous year (2009/2010) the Region recorded a larger deficit of $4.9 million.
2010/2011 Annual Report
2010/2011 Consolidated Financial Statements
Some of the questions from those on hand dealt with physician recruitment and retention to areas like Swan River, as well as a request for updates on programs that are planned for the Swan River Valley like cataract surgery and dental surgery. There were also queries about, but not limited to, ambulance services and nurse practitioner services.