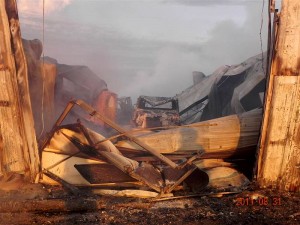 RCMP Media Release | On Wednesday, August 31st, 2011 at 7 a.m., Swan River RCMP, Swan River Fire Dept., and Swan Valley EMS were dispatched to a fire at the Swan River Landfill. The re-cycling facility was on fire. Extensive damage and property loss occurred to the building and contents.
Click picture for a larger version.
Estimated total property loss is: $750,000. This includes the town owned re-recycling building, the re-cycling truck, 3 fork lifts, a front end loader, a compactor, and 2 semi trailers.
No injury, nor loss of life.
Swan River RCMP & the Office of the Fire Commissioner continue to investigate in consultation with Dauphin Major Crimes Unit and Dauphin Forensic Identification Services. The cause of the fire is still under investigation. However, the fire is being treated as an arson.