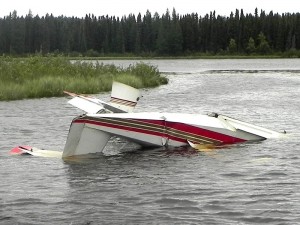 RCMP Media Release |
At 3:30 p.m. Thursday July 14th, a small Lake Buccaneer floatplane crashed in Wellman Lake, approximately 55 kilometers southeast of Swan River.

Click the picture for a larger verision.
The male pilot, age 61, from the Swan River area and two adult men, one from Whitehorse and the other from Dauphin survived the crash. They were treated and released from the Swan Valley Health Centre.
The plane appeared to lose power on take off, struck a beaver dam and then flipped over. All occupants escaped and were rescued by boat and taken to shore.
A joint investigation involving the Transportation Safety Board , Manitoba Conservation and Swan River RCMP continues.