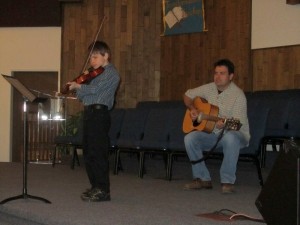 Submitted by: Carolle Cowan | Beginner, Intermediate and Advanced Soloists take part in Fiddlin' Festival, Swan Valley Fine Arts Festival, April 12 and 13 at Temple Baptist Church. 
Pictured to the left is Leo Chartrand.
SVFAFA appreciates executive, committees and the many volunteer helpers that help organize successful Festivals.
Mini workshops were conducted by Adjudicator Kim de la Forest after each session.