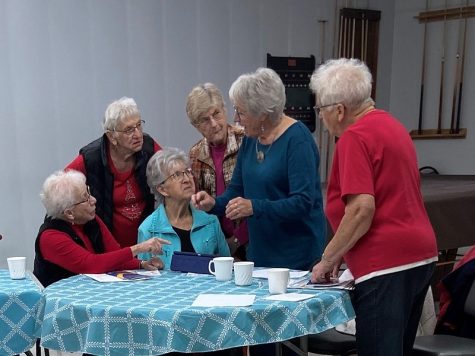 Submitted by: Connie Beaudry |
October is the month of the older person. Hobby Shed and SR Curling Club came to give us information along with Geoff VanMaceklbergh with Alzheimer's of Manitoba in Benito and a version of chair exercises from a CD of Marnie Zamzow in Swan River.
Geoff says that the diagnosis of dementia or Alzheimer's is not the end of the world. There can still be quality of life after the diagnosis. Alzheimer's disease is not curable, it is the dying of brain cells. Early diagnosis, drug therapy and imaging can prolong the quality of life in a patient. Have a test to see if you have the APOE 4 Gene, not all people with this gene have Alzheimer's but all Alzheimer's patients have the APOE 4 Gene. It is proven that isolation and loss of hearing will speed up this disease. The best way to keep the diagnosis stable is to have social interactions, stay current with your friends, make new ones, keep your brain active, brush your teeth with your opposite hand, do things slightly different, eat a balanced diet and keep a healthy lifestyle and limit poor choices to a minimum. You can access Alzheimer's Manitoba https://alzheimer.mb.ca or Teepa Snow dementia on You Tube.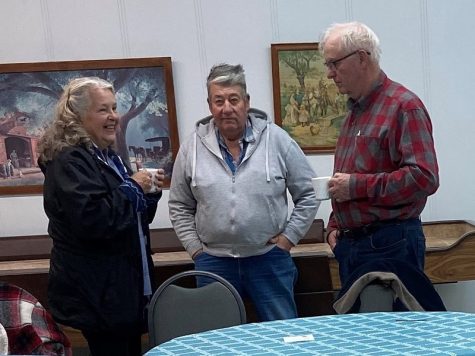 Swan River Hobby Shed is a spinoff from a Men Shed started in Australia, where men are helping men with a renewed sense of meaning and belonging after retirement. Here in Swan Valley we support each other in a shop/garage atmosphere. We are situated at the Swan River Museum Grounds; everyone is welcome to become a member or just come see us and what we do. We can do projects for the community with the community group supplying the raw materials, we do the labour and the community group gives a donation and receives a finished project. Contact Barry 204-614-0147 or Devon 204-734-9116 for more information.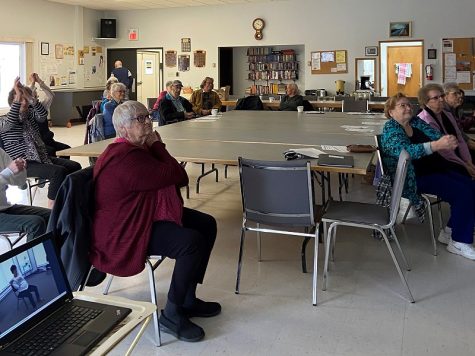 Swan River Curling Club is an excellent venue for getting out for some social therapy, you can watch a game or participate in a season of games or bonspiel or two. Stick Curling is an alternative way to curl. There are two players with sweeping only in the "house", games can last up to 1 hour. If you want to introduce your family to curling, Wednesday is family night from 6:30 to 8pm, up to eight per team with only four playing at one time. There will be a minimum of 4 weeks of instructions with new curlers who hold an individual or family membership. Contact Gary at SR_curling_club@outlook.com or Contact Brian Cotton for Seniors curling 204-734-2968, Dave Bettesworth for Mens curling, Shelly Jersak for ladies curling, or Carrie Goathe for juniors/family curling. Swan River Curling Club is looking for someone to run the concession. Contact is Gary Slack.
We are looking forward to the November Coffee and A Chat to learn more about Fall Prevention Month, Depression and Loneliness. A pot luck lunch will follow the chat, bring your seasonal/traditional comfort foods that make you feel good to share with the group.
Thanks for attending.