Submitted by: Connie Beaudry, Resource Coordinator
Swan River & District Community Resource Council Inc.
Service to Seniors
On September 23, 2023, the Swan River & District Community Resource Council Inc. hosted an Age Friendly Presentation and Trade Show in Swan River. The day started with Keith Behrmann introducing the board and staff and thanking everyone for attending and sharing in our Age Friendly Presentations and Trade Show and 25th year Celebration of Lifeline in the Valley.
The Swan River & District Community Resource Council Inc. is a group of volunteers that is the governing body for Services to Seniors, Swan River Lifeline and the Congregate meal programs in Swan River.
One of our program mandates is to provide information and that is what today is about. Thank you to today's presenters and those with displays who are sharing what the Valley has to offer senior residents. The Coffee and a Chat program is entering its second year with monthly presentations currently at the Swan River & Benito Senior Centres.
The programs of the Resource Council grew out the needs expressed to a nurse Erna Betcher in the 1980's. Along with her sister-in-law Karen Schoenrath and other like minded volunteers, the first basic requirement for health addressed was the need for nutritional, affordable meals and socialization to combat loneliness. Grant proposals were written and eventually support was received from MB Health for the Meal Coordinator's salary, MB Housing to allow access to building kitchens and from local businesses, organizations and larger granting bodies to purchase the equipment needed to run Congregate Meal Programs. In 1987 Fair Haven Apartments & 1988 Rainbow Lodge opened the first meal programs. Over the next 10 years 3 more programs were opened in what was then called Elderly Person's Housing.
As other needs became apparent the Resource Council was formed in 1994, the Services to Seniors Program was developed and a Resource Coordinator was hired. The goal of our program is to offer support to seniors and people with disabilities so they can live happier, healthier lives and maintain their independence in their own homes. Volunteers are the core to provide the assistance many seniors require.
From the beginning Transportation has been a major need. Now more that ever for many seniors, who no longer have family in the area, it is challenging to get to a doctor's appointment or test at the hospital, pick up medication or groceries. Referral to out-of-town appointments is difficult if not impossible for some so their basic health care needs are not being met. Volunteer drivers are needed for in town and out-of-town trips.
This year is Swan River Lifeline's 25th Anniversary. In 1998 Dauphin Lifeline approached our Board indicating that because of the growth of their local program they could no longer service the Swan River area. Board members at that time did the fundraising required to purchase the 38 units that Dauphin Lifeline had in service in the Valley & to buy new units to meet the increasing needs. By the early 2000's the number of subscribers had increased to over 90. Currently there are 77 active subscribers. During the last 25 years Swan River Lifeline has provided over 1000 individuals and their families with the peace of mind that assistance is the press of a button away.
Our Board is very grateful to the businesses, organizations and individuals who have made monetary donations over the past 25 years to assist Swan River Lifeline to continue with our upgrade program so we can continue to assist Seniors and disabled citizens in the Valley remain safely in their own homes for as long as possible.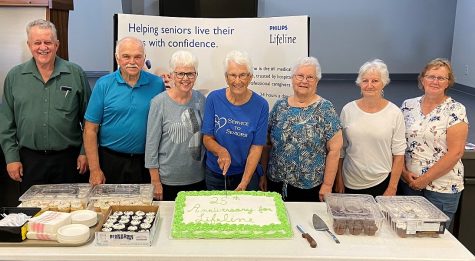 For more information on Lifeline or any of our programs or to become a volunteer please call the Services to Seniors office at 204-734-5707 or contact any member of the Board.
We thank the Alzheimer's Society of Manitoba (Geoff), The Manitoba Lung Association (Kirtsten and Adam), Canadian Mental Health Association (Rob), Get Better Together (Deb) for having a quality presentation with usable information to the attendees. Special thanks for the donations from Quickstop of hamburger buns, Tim Horton's for the Timbit snacks, McDonald's for the coffee and fixings, Karen Schoenrath for the cupcakes, Sunshine Flowers and things for the beautiful table decorations. Thanks to the Swan Valley Co-op for the anniversary cake.