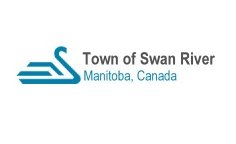 The Council of the Town of Swan River met on Tuesday, July 4, 2023 at 7:00 pm in the Town Council Chambers with Mayor Jacobson presiding along with Deputy Mayor Moriaux and Councillors Bobick, Boychuk, Medwid, Powell, and Whyte.
Absent with Permission:
Also Present:
CAO D. Poole, CFO T. Gnida, Public Works Dir D. Harvey
Delegation Attendees: Former Mayor Glen McKenzie
Media: Jeremy Bergen, Star and Times
1. Call meeting to order
Mayor Jacobson called the meeting to order at 7:00pm.
2. Adoption of the Agenda
Resolution No: 2023-0297
Moved By: David Moriaux
Seconded By: Tanya Powell
RESOLVED that the agenda for the July 4, 2023 regular meeting of Council be adopted.
Carried
3. Confirmation of the minutes
Resolution No: 2023-0298
Moved By: Corinna Medwid
Seconded By: Don Bobick
RESOLVED the minutes of the June 20, 2023 regular council meeting be approved.
Carried
4. Reception of Delegations and Hearings
4.1 Councillor Don Bobick – 10 Year Service Pin
4.2 Former Mayor Glen McKenzie – AMM Lifetime Membership Award
5. Reception of Petitions
6. Communications
6.1 To receive building permit applications
Resolution No: 2023-0299
Moved By: Corinna Medwid
Seconded By: Tanya Powell
RESOLVED that Building Permits 24/23 through 33/23 with a total estimated value of $647,265.00 be received.
Carried
7. Reports of Committees
7.1 Director of Public Works Report
Resolution No: 2023-0300
Moved By: Corinna Medwid
Seconded By: Don Bobick
RESOLVED the Director of Public Works report be received.
Carried
7.2 Other Reports
7.3 Council and CAO Reports
8. New Business
8.1 Demolition of 346 6th Ave South
Resolution No: 2023-0301
Moved By: Corinna Medwid
Seconded By: Tanya Powell
RESOLVED that administration initiate the process for the demolition and clean up of property located at 346 6th Ave South – roll #122300.000
Carried
8.2 Demolition of 325 5th Ave South
Resolution No: 2023-0302
Moved By: Corinna Medwid
Seconded By: Tracy Boychuk
RESOLVED that administration initiate the process for the demolition and clean up of property located at 325 5th Ave South – roll #90200.000
Carried
Amend brought by DM Moriaux Seconded Councillor Whyte
8.3 Crime Prevention Reserve – Community Surveillance Project
Resolution No: 2023-0303
Moved By: Corinna Medwid
Seconded By: Don Bobick
WHEREAS the Town of Swan River and the RCMP jointly applied for a grant of $140,605.76 through the Criminal Property Forfeiture program to be used for the Community Surveillance Project,
AND WHEREAS the Manitoba Government has granted the Town of Swan River $50,000 which is insufficient for the full scale of the project,
THEREFORE, BE IT RESOLVED the Town of Swan River use $40,000 toward the Community Surveillance Project and $10,000 toward the Chamber of Commerce Patrol Vehicle proposal from the Crime Prevention Reserve.
Carried
8.4 To appoint signing officers for Swan Valley Employment and Training Project
Resolution No: 2023-0304
Moved By: Corinna Medwid
Seconded By: Tracy Boychuk
RESOLVED that the signing officers for Swan Valley Employment and Training Project's accounts at Swan Valley Credit Union be Sarah Sakal, Derek Poole and Terence Gnida, and that two signatures or online approvals be required for all transactions.
Carried
8.5 Road Closure Request
Resolution No: 2023-0305
Moved By: Corinna Medwid
Seconded By: Tracy Boychuk
RESOLVED that the Town of Swan River allow the intermittent closure of the following public road allowance for the demolition of the structure currently occupying 124 5th Ave S:
– the 100 block of 5th Ave S between the East-West back-alley and 1st Street S. as shown on the supplied map; provided that the contractor give advance notice of 24 Hours to the Town Administration; and
– 1st St S between 4th Ave S & 5th Ave S, including the intersection of 5th Ave S and 1st St S; as provided on the supplied map; provided that the contractor give advance notice of 1 hour to the Town Administration.
Carried
8.6 2024 Acres Vortex Adjustments
Resolution No: 2023-0306
Moved By: Corinna Medwid
Seconded By: Duane Whyte
RESOLVED that the expenditure of $13,946.01 including tax for the listed changes for the 2024 Acres Vortex be paid for by use of the Fire Truck Replacement Reserve Fund.
Carried
9. Unfinished Business
9.1 To approve annual grant to Swan Valley Historical Museum
Resolution No: 2023-0307
Moved By: Corinna Medwid
Seconded By: Duane Whyte
RESOLVED that the annual grant of $4,000.00 to the Swan Valley Historical Museum, included in the 2023 Financial Plan, be approved for payment.
Carried
9.2 To approve annual grant to Association for Community Living
Resolution No: 2023-0308
Moved By: Corinna Medwid
Seconded By: Don Bobick
RESOLVED that the annual grant of $1,000.00 to the Swan Valley Association for Community Living, included in the 2023 Financial Plan, be approved for payment.
Carried
10. Accounts
10.1 To approve accounts
Resolution No: 2023-0309
Moved By: Corinna Medwid
Seconded By: Tanya Powell
RESOLVED the accounts as follows be hereby approved for payment:
1. General Account Cheques No. 30432 to No. 30481 totaling $206,005.25 as listed on Schedule A.
2. Payroll Account Cheques No. 5329 to No. 5332 totaling $102,581.32 as listed on Schedule B.
3. Direct Deposit Payments totaling $795.00 as listed on Schedule C.
4. Direct Deposit Payments totaling $3,552.79 as listed on Schedule D.
Carried
10.2 Transfer from tax stabilization reserve for playground installations
Resolution No: 2023-0310
Moved By: Tracy Boychuk
Seconded By: Corinna Medwid
WHEREAS the Town of Swan River received an estate bequest in the amount of $5,000.00 designated for "Town of Swan River, Parks Department" in the 2022 fiscal year;
AND WHEREAS Council of the Town of Swan River believes it would be appropriate to use the bequest for playground installations to be completed in the 2023 fiscal year;
AND WHEREAS the 2022 fiscal year had a surplus of $212,549.86 that was transferred to the Tax Stabilization Reserve;
THEREFORE BE IT RESOLVED that $5,000.00 be transferred from the Tax Stabilization Reserve Fund to the General Operating Fund to be used for playground installations.
BE IT FURTHER RESOLVED that appropriate recognition of the bequest be posted and sincere appreciation be expressed to the deceased's family.
Carried
11. By-Laws
11.1 By-Law 7/2023 – Indemnity Bylaw
Resolution No: 2023-0311
Moved By: Corinna Medwid
Seconded By: Don Bobick
RESOLVED that By-Law No. 7/2023 being a By-Law of the Town of Swan River to regulate Indemnities for Council be read a first time.
Carried
12. Notice of Motion
13. In Camera
Resolution No: 2023-0312
Moved By: Don Bobick
Seconded By: Corinna Medwid
RESOLVED that, pursuant to Section 152(3) of the Municipal Act, Council go into Committee and close the meeting to the public.
Human Resource Item
Carried
14. Out of Camera
Resolution No: 2023-0313
Moved By: Don Bobick
Seconded By: Corinna Medwid
RESOLVED that pursuant to Sections 152(4) of the Municipal Act this meeting be reopened to the public.
Carried
15. Items Arising out of Camera
15.1 Grant & Donations
Resolution No: 2023-0314
Moved By: David Moriaux
Seconded By: Don Bobick
RESOLVED that Council rescind the Grants & Donations Policy approved October 4th, 2011; the In-Kind Table and Chair Donation Approved August 6th 2019; and any other pertinent direction on grants and donations from the Town of Swan River; and
BE IT FURTHER RESOLVED that any request to the Town of Swan River come to council on an individual basis for the time being until an appropriate policy be drafted and approved by the council.
Carried
16. Members Privileges
17. Adjournment
Resolution No: 2023-0315
Moved By: Tracy Boychuk
Seconded By: Corinna Medwid
RESOLVED that this regular meeting of Council now adjourn at 9:25pm.
Carried