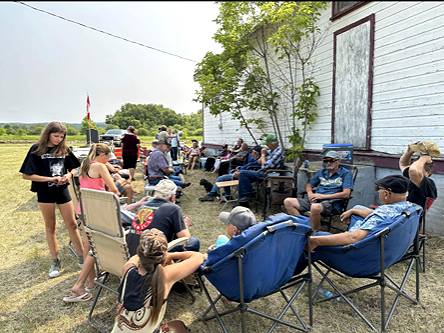 Submitted by: Debbie Soloway
On Sunday July 23, 2023 the tiny village of Renwer welcomed family and friends to celebrate and visit on the grounds of the former Fisher's Siding School now owned by Brian Lewicki. Lawn chairs and tables were set up outside and the Canadian flag raised. Everyone enjoyed a great afternoon of visiting, sharing stories, and reminiscing over the good old days from when some of them attended school there.
The games for all ages offered lots of laughs as they started with filling a tin can full of holes with water and racing to fill a pail at the other end of the relay line, then the balloon toss and hoping not to get wet, the three legged race, the wheel barrel race, and the foot race, fun was had by all.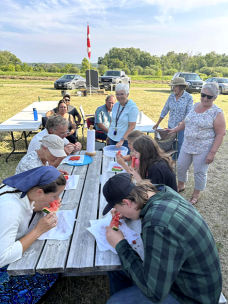 As Grace was said before supper, the committee members and friends gave a tribute to those who have gone on before us and named individuals who were part of the community and school.
Then everyone enjoyed a delicious potluck supper with a wonderful variety of foods, desserts, and fruit. Supper was followed by a watermelon, eating contest for those that still had room.
There was a 50-50 draw and the winner was Evelyn Immerkar, congratulations.

This year we had guests travel a great distance to attend, from Calgary Alberta to the west to Winnipeg Manitoba to the east, and it was great to see Dan and Ken Nemez come home for a visit along with their family.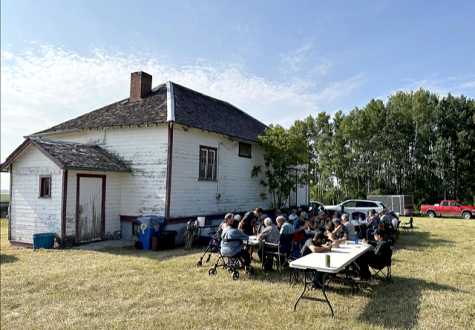 The committee would like to thank Reta Jones for cleaning the school, to all the guests that came to the old fashioned picnic and made it a memorable day, to Brian Lewicki for mowing the grass and taking care of the school, property, and many other jobs he did along with his sister Gloria, to committee members for supplying the porta-potty, tables, tubs and much more. We hope to see you all again next year, have a blessed and wonderful year.