Pictured above: Celebrities were spotted on the course as 'Donald Trump and Joe Biden' drove around greeting golfers while offering refreshments in their travels.
Submitted by: Patty Gattinger |
The Swan River Golf and Country Club held a fundraiser golf bonanza on Saturday, June 24, 2023. With a beautiful day in store the morning began with a pancake breakfast sponsored by Cook and Cooke Insurance. Golfing started at 10 am with 160 golfers registered. All eighteen holes were sponsored by Valley businesses and farms with many of these holes having their respective employees offering games of chance and fun for all.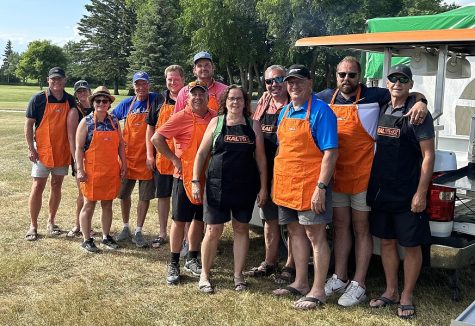 Following a day of golf a fabulous steak supper, with all the trimmings, was served up. Supper was topped off with an ice cream sunday bar. Ken Thompson offered entertainment to the guests throughout the supper and into the evening. A mechanical bull, sponsored by Formo Motors, was available for anyone daring enough to take a chance on riding it.
Silent and Penny Auctions were available for those wanting to take a chance at going home with some of the fabulous prizes offered. After the supper a Live Auction was held with Randy Hart as auctioneer. The day was topped of with socializing for all.
The Swan River Golf and Country Club would like to thank all those who sponsored, donated, participated, volunteered and attended the day, with 20% of the proceeds being donated to the Swan Valley Health Facilities CT scanner.