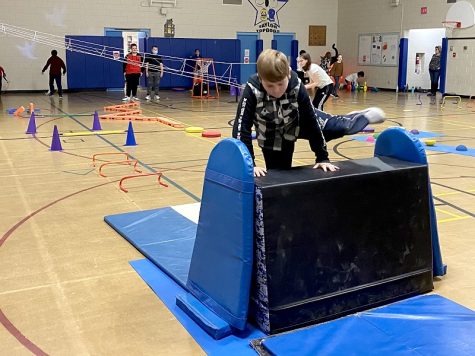 Submitted by: Community Foundation of Swan Valley (CFSV) |
The Swan Valley School Division was recently awarded a grant for equipment to enhance student skills of physical literacy through gymnastics at Taylor School. The aim of daily physical activity is to provide students with a balanced program that helps them to develop the knowledge, skills, and attitudes for maintaining a physically active and healthy lifestyle in a fun and safe environment. The goal is for everyone to become physically literate as it allows individuals to move with competence and confidence in a wide variety of activities.
The CFSV is happy to contribute towards the student's opportunity to explore gymnastics as a tool to develop skills in balance, coordination, agility, strength and flexibility.
To learn more about CFSV grants and how they help our community visit the foundation website at www.cfsv.ca

The Community Foundation of Swan Valley is a charitable organization founded by local citizens to help people invest in building a community that is a better place to live, work and play. Since its inception in 2005, the CFSV has provided over $1,000,000 in funding across the Swan Valley
Contact us: T. 204.734.9129 or cfswanvalley@gmail.com