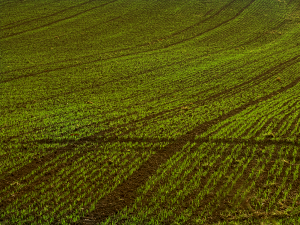 Manitoba Agriculture
Crop Report
May 16, 2023
Northwest Region
Warm and windy week across the region with the exception of a storm that rolled through parts of the region mid-week. Dauphin and Ste. Rose area received approximately 30 mm of rain with Drifting River station receiving 48 mm in a short period. Hail also occurred in Ste. Rose, Dauphin and Gilbert Plains. Planting in these areas were slowed while conditions dried up. Areas that did not receive precipitation from the storm are starting to see dry conditions in the topsoil. Spring wheat seeding progress is well underway across the region. Approximately 90% complete in Roblin area; 65% complete in Swan Valley and Dauphin; 50% complete in The Pas. Earliest seeded spring wheat in Roblin and Swan Valley is emerged. Overall good winter wheat survival. Canola seeding was started across the entire region over the weekend and is approximately 10% complete. Field peas are 80% complete across the region. Soybean seeding is underway in the Dauphin region.
Provincial Overview
Seeding progress across the province is moving at a rapid pace with the recent warm weather. Producers are able to seed most fields, unlike the previous week where producers were more selective on which field to plant due to wet soil conditions. The weather forecast is looking favorable for continued seeding progress over the next week.
Cereal plantings are expected to wrap up towards the end of the week and soybean and canola seeding is expected to increase. Corn planting is at 15% complete and is expected to increase as the week progresses.