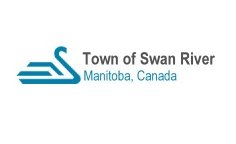 The Council of the Town of Swan River met on Tuesday, April 18th, 2023 at 7:30 pm in the Town Council Chambers with Mayor Jacobson presiding along with Deputy Mayor Moriaux and Councillors Bobick, Boychuk, Medwid, Powell, and Whyte.
Also Present:
CAO D. Poole, CFO T. Gnida, Public Works Dir D. Harvey, Fire Chief Fedorchuk
Delegation Attendees:
Media: Jeremy Bergen, Star and Times
1. Call meeting to order
Mayor Jacobson called the meeting to order at 7:30 pm.
2. Adoption of the Agenda
Resolution No: 2023-0161
Moved By: Corinna Medwid
Seconded By: Tanya Powell
RESOLVED that the agenda for the April 18, 2023 regular meeting of Council be adopted.
Carried
3. Confirmation of the minutes
Resolution No: 2023-0162
Moved By: Don Bobick
Seconded By: Tracy Boychuk
RESOLVED the minutes of the April 11, 2023 regular council meeting be approved.
Carried
4. Reception of Delegations and Hearings
4.1 Bill Gade & The Chamber of Commerce
5. Reception of Petitions
6. Communications
6.1 Letter from Municipal Relations re PILT Reconciliation Grant
Resolution No: 2023-0163
Moved By: Corinna Medwid
Seconded By: Tracy Boychuk
RESOLVED that the letter from the Minister of Municipal Relations dated April 12, 2023 regarding 2022 PILT Reconciliation Grant be received
Carried
6.2 To receive building permit applications
Resolution No: 2023-0164
Moved By: Tanya Powell
Seconded By: Corinna Medwid
RESOLVED that Building and Demolition Permits 7/23 and 8/23 with a total estimated value of $107,000.00 be received.
Carried
7. Reports of Committees
7.1 Director of Public Works Report
Resolution No: 2023-0165
Moved By: Corinna Medwid
Seconded By: Tanya Powell
RESOLVED the Director of Public Works report be received.
Carried
7.2 Other Reports
7.3 Council and CAO Reports
8. New Business
8.1 National Red Dress Day – Walk in the Park Request
Resolution No: 2023-0166
Moved By: Tracy Boychuk
Seconded By: Duane Whyte
RESOLVED the request from Charlotte & Gregg Sauder representing National Red Dress Day committee to use the Legion park on May 5th from 11am to 2pm to host a "walk in the Park" event open to the public to promote awareness and education for missing and murdered indigenous Women and Girls be approved.
Carried
8.2 Grant Application – Chairs – Community Centre
Resolution No: 2023-0167
Moved By: Don Bobick
Seconded By: Tracy Boychuk
RESOLVED the Town of Swan River donate the use of tables and chairs to the Swan Valley Community Centre for the April 22, 2023 Fundraising Event (Finding Waldo).
Carried
8.3 Job Description – Recreation Director
Resolution No: 2023-0168
Moved By: Corinna Medwid
Seconded By: Tracy Boychuk
RESOLVED that the Job Description for the Recreation Director position be approved.
Carried
8.4 Memorandum of Understanding with Prairie Mountain Health – CT Scanner
WHEREAS the Swan Valley Medical Services Committee has committed $1,000,000 towards the addition of a CT Scanner diagnostic service at the Swan Valley Health Centre,
AND WHEREAS all four municipalities must enter into a memorandum of understanding with Prairie Mountain Health for capital project to proceed,
THEREFORE BE IT RESOLVED that Mayor Lance Jacobson be authorized to sign the Memorandum of Understanding with the Prairie Mountain Health.
Tabled
8.5 RCMP – Emergency Services Day – Donation Request
Resolution No: 2023-0169
Moved By: Duane Whyte
Seconded By: Corinna Medwid
RESOLVED the Town of Swan River donate the use of the Arena's Parking Lot and Lobby to the RCMP on June 7, 2023 (rain date of June 14, 2023) for the Emergency Services Day event.
Carried
8.6 Abuse and Molestation Policy
Resolution No: 2023-0170
Moved By: Corinna Medwid
Seconded By: Tracy Boychuk
RESOLVED that the Abuse and Molestation policy be approved.
Carried
8.7 Deck Supervisor Hiring process
Resolution No: 2023-0171
Moved By: Tracy Boychuk
Seconded By: Corinna Medwid
Resolved the Recreation Department initiate a hiring process to replace a Deck Supervisor Position.
Carried
9. Unfinished Business
10. Accounts
10.1 To approve accounts
Resolution No: 2023-0172
Moved By: Corinna Medwid
Seconded By: Tracy Boychuk
RESOLVED the accounts as follows be hereby approved for payment:
1. General Account Cheques No. 30155 to No. 30161 totaling $4,028.78 as listed on Schedule A.
2. Payroll Account Cheques No. 5306 to No. 5310 totaling $102,636.34 as listed on Schedule B.
3. Direct Deposit Payments totaling $35,091.29 as listed on Schedule C.
Carried
10.2 To adopt the January 2023 financial statements
Resolution No: 2023-0173
Moved By: David Moriaux
Seconded By: Corinna Medwid
RESOLVED the Financial Statements for the One Month Ending January 31st, 2023 be adopted as received.
Carried
10.3 To adopt the February 2023 financial statements
Resolution No: 2023-0174
Moved By: Don Bobick
Seconded By: Corinna Medwid
RESOLVED the Financial Statements for the Two Months Ending February 28th, 2023 be adopted as received.
Carried
11. By-Laws
12. Notice of Motion
I Deputy Mayor Moriaux "I give notice of my intention to bring forward Resolution No. 2023-0123 from the March 21, 2023 Regular Meeting of Council to be rescinded at the next regular meeting of council."
13. In Camera
Resolution No: 2023-0175
Moved By: Tanya Powell
Seconded By: Corinna Medwid
RESOLVED that, pursuant to Section 152(3) of the Municipal Act, Council go into Committee and close the meeting to the public. Items to be discussed:
– Recreation – Arena Project
– Conrad Apartments procurement process
Carried
14. Out of Camera
Resolution No: 2023-0176
Moved By: Corinna Medwid
Seconded By: Don Bobick
RESOLVED that pursuant to Sections 152(4) of the Municipal Act this meeting be reopened to the public.
Carried
15. Items Arising out of Camera
15.1 Demolition of 124 5th Ave S
Resolution No: 2023-0177
Moved By: David Moriaux
Seconded By: Don Bobick
RESOLVED that administration initiate the process for the demolition and clean up of property located at 124 5th Ave South- roll #026000.000
Carried
16. Adjournment
Resolution No: 2023-0178
Moved By: Tracy Boychuk
Seconded By: Corinna Medwid
RESOLVED that this regular meeting of Council now adjourn at 10:23 pm
Carried