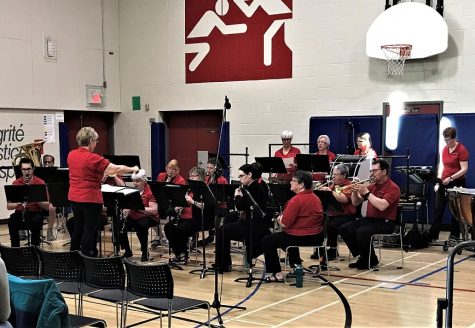 Submitted by: Jayne Leadbeater |
Wednesday Evening, 3 May 2023, the Swan Valley Community Band performed its annual Spring Concert "NOTES OF SPRING" at the Ecole Swan River South School Gym. The audience enjoyed a repertoire of 10 concert selections depicting different genres. This included music representing a number of countries, like Norway, Canada, and Czech Republic, and movie tracks, like Mission: Impossible. At one point, the Concert had an unexpected guest announcer…the One and Only Kermit the Frog, introducing the "Muppet Show" as the final piece.
Seventeen loyal musicians, under the direction of Julie Kooistra, practice weekly on Wednesday evenings from late September to early May every year.
Flute: Karen Kosolowski, Christina Danyluk; Alto Sax: Donna Mae Riddell; Tenor Sax: Lorraine Malcolm, Erika Brandson; Clarinets: Devan Hemmett, Donna Jorundson, Linda McCrea, Laurie Young; Trombone: Jayne Leadbeter; Trumpets: Kim Kosokoski, David Gnida; Tuba: Rob Nesbitt, Percussion: Maureen Bowles, Cindy Bobick, Stephanie Jersak, Phyl Friesen.
Gumpa Tuba (Ron Nesbitt) even had is own fan base!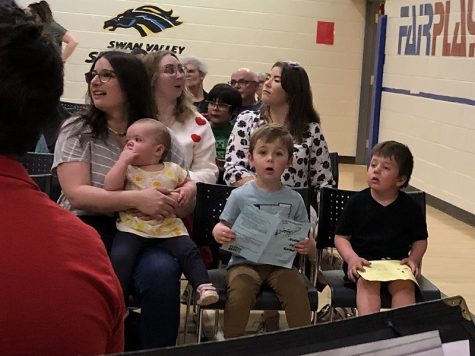 Except for 2 Covid19 Pandemic years, the Community Band has performed twice a year since 1994. That's one year short of 30 years! We count amongst us 4 charter members still enjoying this activity. We invite anyone to join us in this uplifting hobby as there is plenty of empty chairs just waiting for you! The Band members are always willing to help whomever wishes to accept the challenge.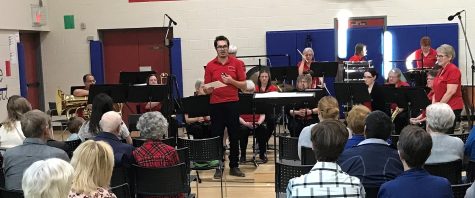 Pictured above: "Kermit" introducing "The Muppett Show"
Unfortunately, we will be losing our "Kermit!", ESRSS Music Director Devan Hemmett, to Winnipeg. He has been a benefit for the last two years helping to direct and play with the addition of opportune humour.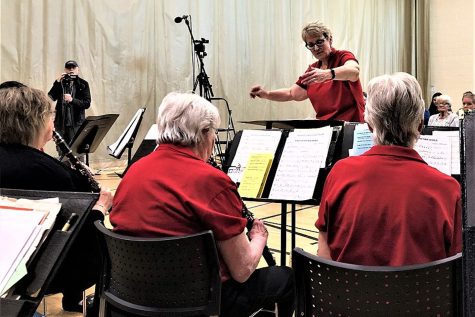 Pictured above: Our conductor, Julie Kooistra, who was aided by Devan Hemmett, Musical Director ESRSS during the year. Jayne Leadbeater also stepped in when Devan was unavailable.
Next September will be our next semester, but we will be performing twice beforehand. The Swan Valley Regional Secondary School Music Director, Glenda Turton, has graciously invited our SVCBand to join the High School Band and perform with them at their final concert, Wednesday 7 June 2023 at the SVRSS. Excitement is in the air! Then, on 1 July 2023, SVCBand opens the Picnic in the Park Canada Day Festivities. Community Band has been annually performing at Canada Day since Swan River's Centennial in 2008.
Call Julie Kooistra 204-734-5139 or Jayne Leadbeater 204-734-4771 for further information.