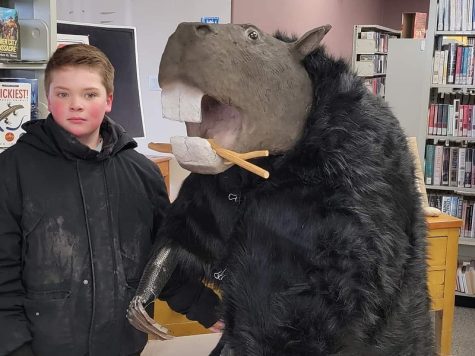 Pictures above: Drayton Loewen stands next to Giant Beaver during "Strange Creatures Seldom Seen" tour
Submitted by: Dodi Abbott
North-West Regional Library Swan River had some very interesting guests on Tuesday, March 28th. A replica of a giant beaver, a very large frog, Manitoba Crocodile egg and even BIGFOOT! John Warms, author of Strange Creatures, brought all his unique replicas, pictures and amazing stories of "strange creatures" of Manitoba.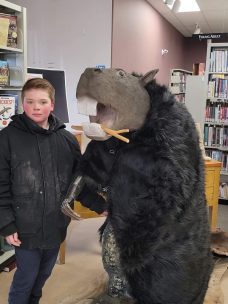 John Warms has been touring all over Manitoba with his "Strange Creature Seldom Seen Tour", he decided to make Swan River his final stop before heading home. Most of his stories and pictures came from Northern Indigenous Communities. With other sightings in Southern Manitoba.
Warms was a former teacher and became interested in these creatures when working up north and talking with locals. Which led him to years of research, adding to his collections, and writing 2 books.
Approximately 150 people stopped by and loved meeting John and listening to his stories! Some visitors even had some of their own stories to share with John.