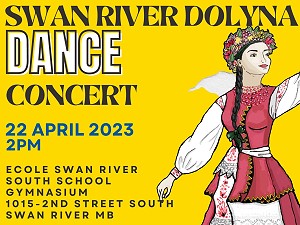 Submitted by: Ara Bartel
Swan River
Dolyna Dancers
Year End Ukrainian
Dance Concert
Sat. April 22, 2023
2:00 pm
Ecole Swan River South School Gymnasium
1015- 2nd Street South, Swan River MB.
Tickets are $10 and can be purchased from any Swan River Dolyna Dancer in advance or at the door. Ages 10 and under are free. Refreshments will be served at Intermission.
There will be a special guest performance by the Adult Dolyna Dancers.