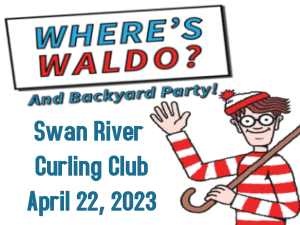 Submitted by:
Kari Goethe
Where's Waldo?
and Backyard Party
Swan River Curling Club
April 22, 2023
Where's Waldo 4:00 pm
Supper 5:30 pm
Backyard Party 9:00 pm

Fundraiser for the Swan River Community Center
Where's Waldo – 4:00pm start (meet at the Curling rink)
– Form teams of 2-6 people of any age
– Every person needs a ticket and each team needs a driver
– Email kgoethe@svsd.ca to enter your team!
– People dressed as Waldos will be hiding around the town and those that find the most will win prizes for their team.
Business Category
– businesses and organizations to sponsor a team of their employees to promote team building
Individual Team Category
– families and friends to form teams to have some fun together
Supper – 6:30pm start
Hamburger/Fries/Coleslaw/Dessert
Backyard Party (18+) – 9:00pm start
Music by Pure Sound (DJ Ryan)
Backyard games (corn hole, ping pong, mini golf etc.) for entertainment
Raffle Prizes
Ticket Prices
Where's Waldo with supper included $25
Backyard party  – $20
Combo Ticket – Where's Waldo/Supper and Backyard party $40
Raffle
Winner can choose a $5000 Travel Voucher or $4000 cash
Tickets $10 each
Draw will be made at the Backyard Party.
All Tickets available at Cook and Cooke or message the Swan River Curling Club on Facebook.