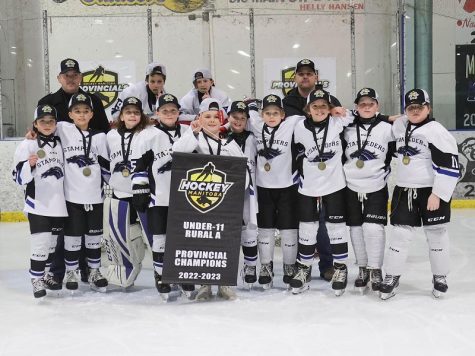 Submitted by: Amanda Dixon
Congratulations to the U11 A Team on a Gold Medal Win in the MB Rural A Provincials! The team had a successful weekend which lead them to the championship game. The final game was played against Dauphin, with a score of 9-3. A tournament win to remember!
Over the weekend, families and the community packed the rink to show their support and we thank you for that!
Thank you to the Coaches, Trevor Warburton and Jordan Rooks and Manager, Pam Mykula. A season well done! Your commitment and countless hours of volunteer time are appreciated.
Thank you to all those that made our weekend possible. To our sponsors, referees, rink staff, the high school grads (door workers) Ricky Barker (live streaming), Jordan (announcer), parents and families. This weekend wouldn't be possible without the commitment from you all.