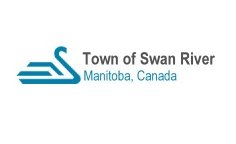 The Council of the Town of Swan River met on Tuesday, January 17, 2023 at 7:30 pm in the Town Council Chambers with Deputy Mayor Moriaux presiding along with and Councillors Bobick, Medwid and Whyte.

Absent with Permission: Mayor Jacobson and Councillors Powell and Boychuk, and Chief D.Fedorchuk
Also Present:
CAO D. Poole, CFO T. Gnida, Dir. of Works D. Harvey, Dir. of Recreation B. Fedorchuk.
Delegation Attendees:
Media: Jeremy Bergen, Star and Times
1. Call meeting to order
Deputy Mayor Moriaux called the meeting to order at 7:30 pm.
2. Adoption of the Agenda
Resolution No: 2023-0010
Moved By: Duane Whyte
Seconded By: Don Bobick
RESOLVED that the agenda for the January 17, 2023 regular meeting of Council be adopted.
Carried
3. Confirmation of the minutes
Resolution No: 2023-0011
Moved By: Don Bobick
Seconded By: Corinna Medwid
RESOLVED the minutes of the January 3, 2023 regular council meeting be approved.
Carried
4. Reception of Delegations and Hearings
5. Reception of Petitions
6. Communications
7. Reports of Committees
7.1 Director of Public Works Report
Resolution No: 2023-0012
Moved By: Don Bobick
Seconded By: Corinna Medwid
RESOLVED the Director of Public Works report be received.
Carried
7.2 Other Reports
7.3 Council and CAO Reports
8. New Business
8.1 To authorize Taxervice engagement letter
Resolution No: 2023-0013
Moved By: Corinna Medwid
Seconded By: Don Bobick
RESOLVED that the Chief Financial Officer be authorized to sign the Taxervice engagement letter dated January 10, 2023 for Management of Property Tax Arrears Recovery.
Carried
8.2 Snow Removal Policy
Resolution No: 2023-0014
Moved By: Duane Whyte
Seconded By: Don Bobick
RESOLVED that the updated snow removal policy dated January 17th, 2023 be approved.
Carried
8.3 Accommodation Tax Bylaw
Resolution No: 2023-0015
Moved By: Don Bobick
Seconded By: Corinna Medwid
WHEREAS The Municipal Taxation and Funding Act provides that the council of a municipality may pass bylaws imposing such forms of taxes as it deems advisable within the municipality,
THEREFORE BE IT RESOLVED that the Town of Swan River commence the drafting of an Accommodation Tax Bylaw.
Carried
9. Unfinished Business
9.1 Fee Schedule 2023
Resolution No: 2023-0016
Moved By: Corinna Medwid
Seconded By: Don Bobick
RESOLVED the Fee Schedule for 2023 be received and approved.
Carried
10. Accounts
10.1 To approve accounts
Resolution No: 2023-0017
Moved By: Corinna Medwid
Seconded By: Duane Whyte
RESOLVED THAT the accounts as follows be hereby approved for payment:
1. General Account Cheques No. 29822 to No. 29875 totaling $142,167.47 as listed on Schedule A.
(Cheque No. 29824 replaces Cheque No. 29562 lost in mail.)
2. Payroll Account Cheques No. 5250 to No. 5256 totaling $92,794.85 as listed on Schedule B.
3. Direct Deposit Payments totaling $17,257.89 as listed on Schedule C
Carried
11. By-Laws
11.1 Third Reading – By-Law 21/2022 – Animal Control Bylaw
Resolution No: 2023-0018
Moved By: Don Bobick
Seconded By: Corinna Medwid
RESOLVED that option A By-Law 21/2022, being a by-law to consolidate and amend our animal control bylaws, be read a third time and passed.
Don Bobick – yes
Tracy Boychuk – absent
Lance Jacobson – absent
Corinna Medwid – no
David Moriaux – yes
Tanya Powell – absent
Duane Whyte – no
Carried
12. Notice of Motion
13. In Camera
Resolution No: 2023-0019
Moved By: Duane Whyte
Seconded By: Don Bobick
RESOLVED that, pursuant to Section 152(3) of the Municipal Act, Council go into Committee and close the meeting to the public. Items to be discussed:
– Arena Project
Carried
14. Out of Camera
Resolution No: 2023-0020
Moved By: Corinna Medwid
Seconded By: Duane Whyte
RESOLVED that pursuant to Sections 152(4) of the Municipal Act this meeting be reopened to the public.
Carried
15. Items Arising out of Camera
16. Adjournment
Resolution No: 2023-0021
Moved By: Corinna Medwid
Seconded By: Don Bobick
RESOLVED that this regular meeting of Council now adjourn at 8:52pm.
Carried