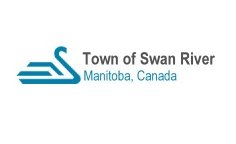 The Council of the Town of Swan River met on Tuesday, December 6, 2022 at 7:30 pm in the Town Council Chambers with Mayor Jacobson presiding along with Councillors Boychuk, Medwid, Powell, and Whyte.
Absent with Notice: Deputy Mayor Moriaux (joined at 8:30); Councillor Bobick
Also Present:
CFO T. Gnida, Public Works Dir D. Harvey, Fire Chief D. Fedorchuk, Rec. Dir. Fedorchuk
Attendees: Jason Deluarier, Phylis Friesen
Media: Jeremy Bergen, Star and Times
1. Call meeting to order
Mayor Jacobson called the meeting to order at 7:30 pm.
2. Adoption of the Agenda
Resolution No: 2022-0514
Moved By: Duane Whyte
Seconded By: Tracy Boychuk
RESOLVED that the agenda for the December 6, 2022 regular meeting of Council be adopted.
Carried
3. Confirmation of the minutes
Resolution No: 2022-0515
Moved By: Duane Whyte
Seconded By: Tanya Powell
RESOLVED the minutes of the November 15, 2022 regular council meeting be approved.
Carried
4. Recognition of Service
4.1 Presentation to Phylis Friesen and Jason Delaurier
5. Reception of Delegations and Hearings
6. Reception of Petitions
7. Communications
7.1 RCMP email, letter, invoices and reports
Resolution No: 2022-0516
Moved By: Corinna Medwid
Seconded By: Tanya Powell
RESOLVED that the Royal Canadian Mounted Police email and letter dated November 16, invoice dated November 19, and Contract Policing Monthly Year to Date Report dated September 30 be received.
Carried
7.2 Municipal Relations bulletin re MDTP COVID-19 Top-Up Grant
Resolution No: 2022-0517
Moved By: Duane Whyte
Seconded By: Corinna Medwid
RESOLVED THAT the Department of Municipal Relations Bulletin #2022-33 regarding MDTP COVID-19 Top-Up Grant – Expanded Provisions be received.
Carried
7.3 To receive building permit applications
Resolution No: 2022-0518
Moved By: Corinna Medwid
Seconded By: Tracy Boychuk
RESOLVED that Building and Demolition Permits 60/22 through 65/22 with a total estimated value of $356,300.00 be received.
Carried
7.4 Sapotaweyak Cree Nation correspondence
Resolution No: 2022-0519
Moved By: Tanya Powell
Seconded By: Duane Whyte
RESOLVED the Request for Expression of Interest from Sapotaweyak Cree Nation be received.
Carried
8. Reports of Committees
8.1 Director of Public Works Report
Resolution No: 2022-0520
Moved By: Duane Whyte
Seconded By: Tanya Powell
RESOLVED the Director of Public Works report be received.
Carried
8.2 Other Reports
8.3 Council and CAO Reports
9. New Business
9.1 Emergency Plan 2023
Resolution No: 2022-0521
Moved By: Corinna Medwid
Seconded By: Tracy Boychuk
Resolved the Town of Swan River receive and approve the 2023 Emergency Measures Plan.
Carried
9.2 Main St Snow Clearing Agreement
Moved By: Duane Whyte
Seconded By: Tracy Boychuk
RESOLVED that the Snow Removal Agreement with Manitoba Transportation and Infrastructure be signed.
Tabled
9.3 To approve Agency Agreement with Skateboard Union
Resolution No: 2022-0522
Moved By: Duane Whyte
Seconded By: Corinna Medwid
WHEREAS the Skateboard Union wishes to resurface the Town-owned Swan River Lions Skate Plaza concrete skatepark, located at 124 Fourth Avenue North, with a concrete sealer;
AND WHEREAS the Skateboard Union has been approved for a grant from The Community Foundation of Swan Valley on condition that the grant be given to the Town;
AND WHEREAS The Town wishes to appoint the Skateboard Union to undertake the project;
THEREFORE BE IT RESOLVED THAT the Mayor and the Chief Financial Officer be authorized to sign the Agency Agreement with the Skateboard Union attached hereto as Schedule "A".
Carried
10. Unfinished Business
10.1 To approve proposed revisions to Airport Commission agreement
Moved By: Corinna Medwid
Seconded By: Tracy Boychuk
WHEREAS the Town of Swan River is party to an agreement to establish the Swan Valley Municipal Airport Commission dated October 20th, 2017;
AND WHEREAS the three other municipal parties to the agreement have indicated their support for proposed revisions to the agreement;
AND WHEREAS two of the other municipal parties to the agreement have defeated or tabled resolutions to approve the Airport Commission's 2022 budget and pay the 2022 municipal levy until all municipal parties have approved the proposed revisions to the agreement and the municipal levies have been recalculated as specified in the proposed revisions;
AND WHEREAS the Town of Swan River Council wishes to continue an agreement with the three other municipal parties for the Swan Valley Municipal Airport Commission, as the airport provides essential services and access to the residents of the Town of Swan River and the Swan River Valley;
THEREFORE BE IT RESOLVED that the Town of Swan River approve the proposed revisions to the agreement to establish the Swan Valley Municipal Airport Commission as per attached Schedule A.
Tabled
11. Accounts
11.1 To approve accounts
Resolution No: 2022-0523
Moved By: Corinna Medwid
Seconded By: Duane Whyte
RESOLVED THAT the accounts as follows be hereby approved for payment:
1. General Account Cheques No. 29639 to No. 29707 totaling $511,139.20 as listed on Schedule A.
2. Payroll Account Cheques No. 5215 to No. 5222 totaling $99,146.05 as listed on Schedule B.
3. Direct Deposits totaling $815.00 as listed on Schedule C.
4. Direct Deposits totaling $1,475.88 as listed on Schedule D.
Carried
11.2 To approve annual grant to SV Historical Museum
Resolution No: 2022-0524
Moved By: Corinna Medwid
Seconded By: Tanya Powell
RESOLVED that the annual grant of $4,000.00 to the Swan Valley Historical Museum, included in the 2022 Financial Plan, be approved for payment.
Carried
11.3 To approve assessment alterations
Resolution No: 2022-0525
Moved By: Tanya Powell
Seconded By: Duane Whyte
WHEREAS Section 326 of The Municipal Act provides that a municipality may impose supplementary taxes, and Subsection 300(6) provides that a municipality may cancel or reduce taxes, upon receipt of assessment alterations from Manitoba Assessment Services;
THEREFORE BE IT RESOLVED that the assessment alterations made by Manitoba Assessment Services on November 14th and December 1st be made to the 2022 Property Tax Roll, with the resulting increases totaling $972.31 and the resulting decreases totaling $324.00.
Carried
11.4 To transfer to Lagoon Improvement Reserve
Resolution No: 2022-0526
Moved By: Duane Whyte
Seconded By: Corinna Medwid
RESOLVED that the $50,000.00 contribution budgeted in the 2022 Financial Plan be made from the Utility Operating Fund to the Lagoon Improvement Reserve Fund.
Carried
11.5 To set 2023 tax sale auction date
Resolution No: 2022-0527
Moved By: Tracy Boychuk
Seconded By: Corinna Medwid
WHEREAS Section 365(2) of The Municipal Act provides that Council may in any year designate the immediately preceding year, or any earlier year, as the year for which properties, the taxes in respect of which are in arrears for the year, must be offered for sale by auction to recover the tax arrears and costs;
BE IT RESOLVED THAT the Designated Year for which properties in arrears be offered for sale by auction, be 2022 (meaning all properties with outstanding taxes from the year 2021 or prior); and
BE IT FURTHER RESOLVED THAT in accordance with Section 363(1) of the Municipal Act, "costs" shall be the actual costs incurred for each parcel listed for the 2023 tax sale plus an administration fee of $50.00 (as set forth in Manitoba Regulation 50/97); and
BE IT FURTHER RESOLVED THAT the 2023 tax sale be held Wednesday, September 13th, 2023 at 2:00 pm in the Town of Swan River council chambers and that Taxervice be hired to manage the Tax Sale for the Town during the Fiscal Year 2023.
Carried
11.6 To add unpaid accounts to taxes
Resolution No: 2022-0528
Moved By: Duane Whyte
Seconded By: Tracy Boychuk
WHEREAS the Town of Swan River used municipal equipment, materials and labour to carry out private works on private property under The Municipal Act clause 250(2)(e), and set the fees and charges for the works under clause 252(1)(a) of The Act;
AND WHEREAS sufficient time has been allowed for payment of such outstanding amounts as listed on the attached Schedule "A" totaling $5,700.12;
THEREFORE BE IT RESOLVED THAT each of the unpaid amounts listed on Schedule "A" be added to the corresponding property tax roll and collected in that manner under subsection 252(2) of The Act;
BE IT FURTHER RESOLVED THAT notice be sent to each property owner detailing the amounts being added to the taxes and advising that interest will accrue on said amounts in the same manner as for unpaid property taxes effective January 1st, 2023.
Carried
12. By-Laws
12.1 Third Reading – By-Law 22/2022 – Procedure Bylaw
Resolution No: 2022-0529
Moved By: Duane Whyte
Seconded By: Tracy Boychuk
RESOLVED that By-Law 22/2022, being a By-Law describing the Town of Swan River council procedures be read a third time and passed.
Don Bobick – absent
Tracy Boychuk – yes
Lance Jacobson – yes
Corinna Medwid – yes
David Moriaux – yes
Tanya Powell – yes
Duane Whyte – yes
Carried
12.2 Third Reading – By-Law 23/2022 – Organization Bylaw
Resolution No: 2022-0530
Moved By: Corinna Medwid
Seconded By: Duane Whyte
RESOLVED that By-Law 23/2022, being a by-law to establish the organizational structure for the municipality, be read a third time and passed.
Don Bobick – absent
Tracy Boychuk – yes
Lance Jacobson – yes
Corinna Medwid – yes
David Moriaux – yes
Tanya Powell – yes
Duane Whyte- yes
Carried
13. Notice of Motion
14. In Camera
Resolution No: 2022-0531
Moved By: Tracy Boychuk
Seconded By: Tanya Powell
RESOLVED that, pursuant to Section 152(3) of the Municipal Act, Council go into Committee and close the meeting to the public.
– Swan Valley Aquatic Centre – DDWest
– Airport land offer
– Personnel
– Purchased services
Carried
15. Out of Camera
Resolution No: 2022-0532
Moved By: Corinna Medwid
Seconded By: Tanya Powell
RESOLVED that pursuant to Sections 152(4) of the Municipal Act this meeting be reopened to the public.
Carried
16. Items Arising out of Camera
16.1 To Accept Proposal for Metallurgical Study
Resolution No: 2022-0533
Moved By: David Moriaux
Seconded By: Tracy Boychuk
RESOLVED that the Town of Swan River proceed with the metalurgical study at the Wellness Centre proposed by Testlabs for the amount of $52,655.00.
Carried
17. Adjournment
Resolution No: 2022-0534
Moved By: Corinna Medwid
Seconded By: Tanya Powell
RESOLVED that this regular meeting of Council now adjourn at 10:00pm.
Carried