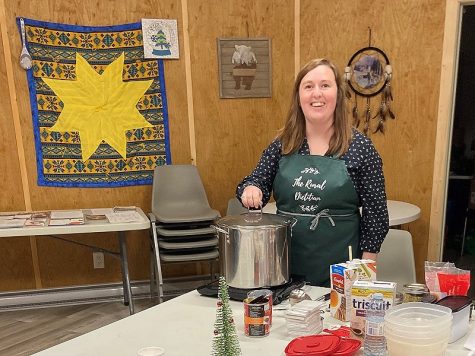 Submitted by: Swan River & District Community Resource Council Inc. – Service to Seniors
The third set of sessions of the Winter-Coffee and a Chat were well received with 25 people attending the two venues. Services to Seniors Connie Beaudry started the sessions with introducing the guest speakers and welcoming the participants.
Candice Braun started the session with Question and Answers from the participants concerning Blood Pressures while taking participants pressures at WSFN, Jolie Suidy started the Swan River session with taking Blood Pressures of the participants, fielding questions as she worked with the help of Katie Kroeker. We also learned about "My Health Team" The team includes a Primary Care Outreach Nurse, Mental Health Shared Care Counselor, Primary Health Care Provider Assistant, Community Pharmacist, and an Administrative Assistant, Community Social Worker, Community Addictions Peer Support Facilitator (CAPSF) and Chronic Disease Management Nurse (LPN), and a Nurse Practitioner. This team can be reached from the primary health care center here in Swan River.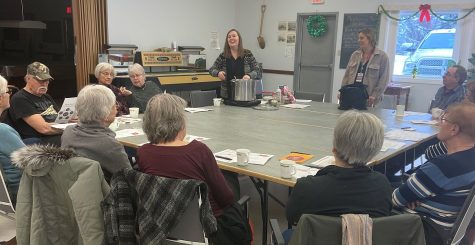 Katie Kroeker gave us a copy of the Country Hamburger Lentil Soup – Crock-Pot Recipe – Food.com, soup recipe that she made right in front of us. All healthy ingredients, high in nutrition and low in fat and salts. A nice discussion following the building of the soup was enjoyed by all participants.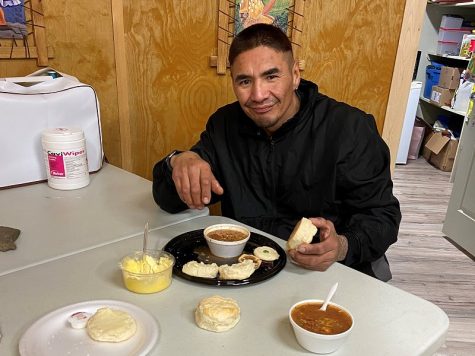 We broke for a light lunch of the fresh soup at 11:30 with more friendly discussions. Thank you to the men who came as well as everyone who braved the prior nights snowfall that left the town streets in a slippery mess.
We are looking forward to the next month's sessions, January 10th in Birch River Wuskwi Sipihk First Nation, cultural building and January 12th in Swan River at the Senior Center. The topics will be Grief/Mental Wellness, Exercises/meditation for Arthritis. We are looking forward to seeing you there. Have a great December and Merry Christmas from SR & District Community Resource Council Inc./Services to Seniors and Swan River LifeLine.
Click here for the winter schedule of events.