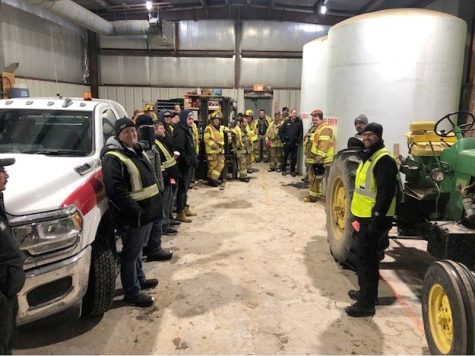 Pictured above: Fire Suppression/Maintenance Building
Submitted by: Swan Valley Co-op
The Swan Valley Co-op held a training night at the Swan River agro and corporate bulk petroleum facilities on Wednesday, November 23, 2022. The almost 30 attendees included members of the Swan River, Benito and RM of Mountain Fire Departments along with the Swan Valley Co-op team.
The training was initiated to review the new layout at the site with the addition of the fertilizer storage facility and relocation of buildings due to the January 2022 fire. The evening began with the chemical storage shed to discuss products, Safety Data Sheets (SDS), chemical spill containment and product quantity.
Next up was the existing fire suppression/maintenance building and a review of the strategy for the new facility, approach to water storage and demonstration of the new electric pumps with the gas unit back up.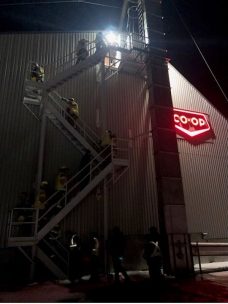 Further discussion took place regarding the live NH3 (ammonia) and fire training exercises that took place 2 years prior and the benefit provided with practical knowledge. Much of this was applied to addressing a real fire and the loss in January 2022. At the end of the agro portion of the tour, a walk-through of the new fertilizer building was done, and firefighters climbed to the top of the facility to see the bins and discussed extrication. How the product is loaded and offloaded, impregnated as well as SDS and emergency considerations were reviewed.
The group then moved to the Federated Co-op Limited (FCL) corporate bulk site to review the layout of the tank farm, capacities, SDS, spill containment, water separation and emergency shut-off systems etc. The participants were able to walk through the site and gain a clear understanding of the system layout and complexity.
2023 training plans include live fire training exercises at the corporate bulk plant and agro sites with fire department response. As well as the potential for an NH3 (ammonia) training day in the coming year that would be inclusive of the local fire departments and our sister Co-ops.
"We value the partnerships and commitment from the fire departments within the Swan Valley as well as the assistance they have provided when required. Their participation in events such as this provides the basis for a sound working relationship and establishes a safe and efficient response. We appreciate the time everyone took to participate in the event," said Derek Armstrong, Asset Protection Manager, Swan Valley Co-op.
About Swan Valley Co-op
Swan Valley Co-op is a local co-operative that has proudly served the Swan Valley for over 82 years. Today, Swan Valley Co-op serves 5,000 members — and many more customers — in Northwest MB, where it operates Food, Fuel and Agro locations. Since 2014, Swan Valley Co-op has returned more than $14 million to its members in cash back and equity, while contributing over $400,000 to community organizations and initiatives. More information is available at www.swanvalleyco-op.crs