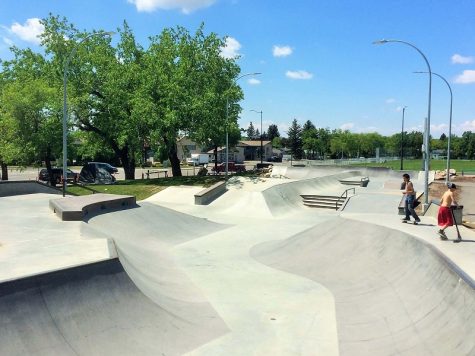 City of Lethbridge News Release – November 10, 2022
Skateboarders, inline skaters, BMX and scooter riders will soon be shredding at the Wade Galloway Skate Park as City Council approved a new multi-year sponsorship deal with the Wade Galloway Foundation. The site, formally known as the SLP Skate Park, was a passion project for Galloway as he advocated for, and raised money towards, the construction of the facility.
"I can't think of a more fitting way to honour Wade who was committed not only to building this skate park but also to serving his community," says Mayor Blaine Hyggen. "While the time Wade and I spent together as colleagues was short, the personal connection to him, through his family, continues today and I'm so grateful to be able to honour him in this way. On behalf of City Council, I thank the Galloway family and the Foundation for choosing this site to remember the legacy Wade has left here in Lethbridge."
Galloway's work on the Skate Park project inspired him to run for City Council, winning a seat in the 2013 election, just months before his untimely death in February of 2014. The Skate Park, located on the corner of Mayor Magrath Drive South and South Parkside Drive, would officially open later that year and has proven to be a popular destination for residents of all ages.
"Wade loved skateboarding when he was young," says Bill Galloway, Wade's father. "He wanted nothing more than to have a community space where he could share that passion with his own children as well as all young people. He worked hard to make that happen and we are honoured to use funds from his Foundation to recognize that dedication and enhance the city he loved."
The sponsorship agreement includes a 20-year deal at $12,500 per year for the first 10 years and $15,000 per year for the next 10 years for a total commitment of $275,000. "We also want to thank SLP Industries for their past sponsorship of the Skate Park," says Mayor Hyggen. "They have been an excellent community partner for more than a decade and we are extremely grateful for their support." New signage will be installed and a grand re-opening event will be held when weather permits.