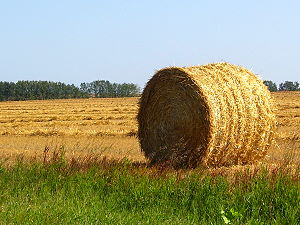 Manitoba Agriculture
Crop Report
October 25, 2022
Northwest Region
Mixed weather carried into the week, warmer days starting last week, becoming colder with high humidity and small amounts of precipitation by the weekend. Harvest is virtually complete for all crops, with the exception of silage corn awaiting custom chopping crews on the eastern side of the region. Higher tonnage losses from black bear damage were noted this year. Fall fertilizer application has seen good progress, and farmers are continuing to band anhydrous ammonia and granular fertilizer as weather permits until the nutrient application deadline. Post-harvest herbicide application is wrapping up with successive killing frosts.
Provincial Overview
Harvest progress sits at 95% complete across the province.
Harvest is wrapping up or done in most parts of southern Manitoba, and significant amounts of fall fieldwork, and surface drainage cleanout have been completed. Fall fertilizer application is generally behind last year's pace.
Fall anhydrous ammonia application continues as soils cool, but rainfall over southern Manitoba over the weekend has stopped until soils dry slightly or the winter applicant ban takes effect.
No provincial variance is in effect for the restriction on winter nutrient application on or after November 10, 2022, based on the Nutrient Management Regulation.
Topsoils (0-30 cm) remain dry to very dry in large parts of western and central Manitoba, and more moisture is needed to help seal in applied fertilizer and recharge available soil water for the 2023 crop.
Soils in the Interlake and Eastern regions are wetter, and are stalling corn harvest and fieldwork.
Corn harvest ongoing, and is most advanced in the Red River Valley of the Central region. Yields there are reported between 150 to 200 bu/acre on average, and between 120 to 150 bu/acre in the Southwest.
This is the last regular edition of the 2022 Crop Report, the seasonal summary report will be published on November 1st, 2022.