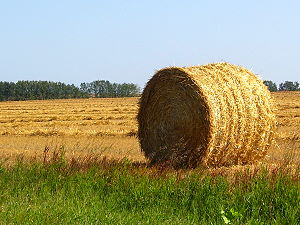 Manitoba Agriculture
Crop Report
October 18, 2022
Northwest Region
The week started off with nice weather and warm temperatures, and cooler fall weather set in for the rest of the week. Some areas received precipitation, with Rorketon receiving the most at 10 mm in the form of rain and snow.
Overnight temperatures reached a low of -9°C in San Clara. Even though conditions were cool and windy, harvest was able to continue to progress, moving towards completion. Fields that remain unharvested are either later seeded, delayed by hail/cool weather and/or insect pressure from earlier in the year.
Provincial Overview
Harvest progress sits at 90% complete across the province, having caught up to the 5-year average of 91% complete by week 42.
Harvest is wrapping up or done in many areas of southern Manitoba, and fall fieldwork, tillage, fertilizer application and drainage is underway.
Winter cereal crops appear in good condition, but soil moisture is low in those fields and many other areas. Rainfall is needed to recharge soil moisture reserves ahead of spring planting.
Some canola remains unharvested in parts of the Southwest, Eastern, and Interlake regions where late seeding has resulted in late-harvested crops, which are slow to drydown and condition for longer-term storage, leaving those producers frustrated with harvest delays.
Corn harvest has started, and is most advanced in the Red River Valley of the Central region. Yields are reported between 150 to 200 bu/acre on average.
Fertilizer application is ongoing, with some broadcast fertilizer being applied, while many farms choose to band granular nitrogen or anhydrous ammonia as soils cool below 10°C.