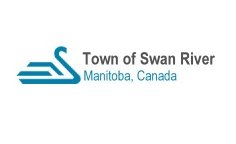 The Council of the Town of Swan River met on Tuesday, September 20, 2022 at 7:00 pm in the Town Council Chambers with Mayor Jacobson presiding along with Deputy Mayor Wintoniw and Councillors Delaurier, Moriaux, Bobick, and Whyte.
​Absent with Permission – Friesen
Also Present:
CAO D. Poole, CFO T. Gnida, Fire Chief D. Fedorchuk, Dir. of Works D. Harvey, Dir. of Recreation B. Fedorchuk
Delegation Attendees: Brian J. Meronek, Q.C.(DD West LLP)
Media: Jeremy Bergen, Star and Times
1. Call meeting to order
Mayor Jacobson called the meeting to order at 7:00.
2. Adoption of the Agenda
Resolution No: 2022-0405
Moved By: Duane Whyte
Seconded By: Jason Delaurier
RESOLVED that the agenda for the September 20, 2022 regular meeting of Council be adopted.
Carried
3. Confirmation of the minutes
Resolution No: 2022-0406
Moved By: Don Bobick
Seconded By: David Moriaux
RESOLVED the minutes of the September 6, 2022 regular council meeting be approved.
Carried
4. Reception of Delegations and Hearings
4.1 Open Public Hearing – Variance 1/2022 – 222 8th Ave N – Fahrenschon
Resolution No: 2022-0407
Moved By: Johnny Wintoniw
Seconded By: Jason Delaurier
RESOLVED that this regular meeting be closed and the public hearing on Variance Order 1.2022 be opened.
Carried
4.2 Close Public Hearing – Variance 1/2022
Resolution No: 2022-0408
Moved By: Johnny Wintoniw
Seconded By: Don Bobick
RESOLVED that the public hearing be adjourned and the regular meeting be re-opened.
Carried
4.3 Brian J. Meronek, Q.C. (DD West LLP)
5. Reception of Petitions
6. Communications
6.1 Celebrate National Forest Week
Resolution No: 2022-0409
Moved By: Duane Whyte
Seconded By: Johnny Wintoniw
WHEREAS the Town of Swan River greatly appreciates the recreational and industrial resources provided by Duck Mountain Provincial Park and the Porcupine Mountain Provincial Forest;
AND WHEREAS the Province of Manitoba wants to encourage greater public awareness of Canada's forests;
THEREFORE BE IT RESOLVED that September 18-24, 2022 be declared National Forest Week in the Town of Swan River.
Carried
7. Reports of Committees
7.1 Director of Public Works Report
Resolution No: 2022-0410
Moved By: Johnny Wintoniw
Seconded By: David Moriaux
RESOLVED the Director of Public Works report be received.
Carried
7.2 Handivan Report
Resolution No: 2022-0411
Moved By: Don Bobick
Seconded By: Johnny Wintoniw
RESOLVED that the August 2022 Swan River Handi-Transit Van Report be received.
Carried
7.3 Council and CAO Reports
8. New Business
8.1 Variance 1.2022 – 222 8th Ave N – Fahrenschon
Resolution No: 2022-0412
Moved By: Jason Delaurier
Seconded By: Don Bobick
RESOLVED that Variance Order 1.2022 for 222 8th Ave N (Lot 6 Plan 3208) be approved.
Carried
8.2 Amyloidosis Awareness Month
Resolution No: 2022-0413
Moved By: Duane Whyte
Seconded By: Johnny Wintoniw
WHEREAS March is Amyloidosis Awareness Month, a month dedicated to raising awareness, funding research, and supporting those living with amyloidosis and their loved ones;
AND WHEREAS Amyloidosis is a group of diseases that occur when an abnormal protein, known as amyloid, builds up in the tissues and organs of the body that, left untreated, can result in organ failure and can be fatal;
AND WHEREAS Amyloidosis can mimic the signs and symptoms of more common medical conditions and the disease can be challenging to diagnose;
AND WHEREAS Amyloidosis often affects people in middle age and older adults, but younger people have been diagnosed with this disease as well;
AND WHEREAS some of the signs and symptoms of amyloidosis can include shortness of breath, weight loss, fatigue, swelling in the ankles and legs, numbness in the hands and feet, foamy urine, carpal tunnel syndrome, bruising around the eyes, and an enlarged tongue;
AND WHEREAS early diagnosis can lead to better outcomes for both patients and their families;
AND WHEREAS raising awareness about all the amyloidosis diseases, including hereditary and non-hereditary forms of the disease, can contribute to the building of healthier communities across Canada;
THEREFORE BE IT RESOLVED THAT the Town hereby recognize March 2023 as Amyloidosis Awareness Month within the Town of Swan River.
Carried
8.3 Grant Application – acknowledgment of ownership of Centennial Arena Project
Resolution No: 2022-0414
Moved By: Don Bobick
Seconded By: Johnny Wintoniw
RESOLVED that the Town of Swan River acknowledge our committment as owners of the Swan River Centenial Arena Retrofit Project.
Carried
8.4 Day of Mourning
Resolution No: 2022-0415
Moved By: Duane Whyte
Seconded By: Johnny Wintoniw
RESOLVED that in honor of the late Queen Elizabeth the Second, the Town of Swan River observe September 19th, 2022 alone, as a day of mourning.
Carried
9. Unfinished Business
10. Accounts
10.1 To approve accounts
Resolution No: 2022-0416
Moved By: Johnny Wintoniw
Seconded By: Don Bobick
RESOLVED THAT the accounts as follows be hereby approved for payment:
1. General Account Cheques No. 29378 to No. 29436 totaling $137,811.96 as listed on Schedule A.
2. Payroll Account Cheques No. 5170 to No. 5175 totaling $10,328.21 as listed on Schedule B.
3. Direct Deposits totaling $123,785.77 as listed on Schedule C.
Carried
10.2 To adopt the August 2022 financial statements
Resolution No: 2022-0417
Moved By: Johnny Wintoniw
Seconded By: David Moriaux
RESOLVED that the Financial Statements for the Eight Months Ending August 31st, 2022 be adopted as received.
Carried
10.3 To transfer from reserve and surplus for tractor
Resolution No: 2022-0418
Moved By: David Moriaux
Seconded By: Johnny Wintoniw
WHEREAS the 2022 Capital Budget included $50,000.00 for Tractor cab, mower and blade, which has been purchased at a cost, including advertising for tender and excluding GST, of $54,203.32;
AND WHEREAS the 2022 Financial Plan included $510,000.00 Transfer from Accumulated Surplus of which $50,000.00 was to be used for this purchase;
BUT WHEREAS $25,000.00 was contributed to the Recreation Facilities Reserve for Major Repairs in the 2021 fiscal year to be used for this purchase;
THEREFORE BE IT RESOLVED that $25,000.00 be transferred from the Recreation Facilities Reserve for Major Repairs, and $29,203.32 be transferred from Accumulated Surplus, both to the General Operating Fund.
Carried
10.4 To add unpaid accounts to taxes
Resolution No: 2022-0419
Moved By: David Moriaux
Seconded By: Don Bobick
WHEREAS the Town of Swan River used municipal equipment, materials and labour to carry out private works on private property under The Municipal Act clause 250(2)(e), and set the fees and charges for the works under clause 252(1)(a) of The Act;
AND WHEREAS sufficient time has been allowed for payment of such outstanding amounts as listed on the attached Schedule "A" totaling $6,085.10;
THEREFORE BE IT RESOLVED THAT each of the unpaid amounts listed on Schedule "A" be added to the corresponding property tax roll and collected in that manner under subsection 252(2) of The Act;
BE IT FURTHER RESOLVED THAT notice be sent to each property owner detailing the amounts being added to the taxes and advising that interest will accrue on said amounts in the same manner as for unpaid property taxes effective October 1st, 2022.
Carried
11. By-Laws
11.1 Second Reading – By-Law 20/2022 – Business Bylaw Amendment
Resolution No: 2022-0420
Moved By: Don Bobick
Seconded By: Johnny Wintoniw
RESOLVED that By-Law 20/2022, being a by-law to amend the Business License Bylaw, be read a Second time.
Carried
11.2 Third Reading – By-Law 20/2022 – Business Bylaw Amendment
Moved By: David Moriaux
Seconded By: Don Bobick
RESOLVED that By-Law 20/2022, being a by-law to amend the Business License Bylaw, be read a Third time and passed.
Don Bobick – yes
Jason Delaurier – yes
Phylis Friesen – absent
Lance Jacobson – yes
David Moriaux – yes
Duane Whyte – yes
Johnny Wintoniw – yes
Carried
11.3 First Reading – By-Law 21/2022 – Animal Control Bylaw
Resolution No: 2022-0421
Moved By: David Moriaux
Seconded By: Don Bobick
RESOLVED that By-Law 21/2022, being a by-law to consolidate and amend our animal control bylaws, be read a First time.
Carried
12. Notice of Motion
13. In Camera
Resolution No: 2022-0422
Moved By: Duane Whyte
Seconded By: Johnny Wintoniw
RESOLVED that, pursuant to Section 152(3) of the Municipal Act, Council go into Committee and close the meeting to the public.
Legal – RRWC – DD West
Purchased Services
Library
Provincial Order in Council Update
Carried
14. Out of Camera
Resolution No: 2022-0423
Moved By: Johnny Wintoniw
Seconded By: David Moriaux
RESOLVED that pursuant to Sections 152(4) of the Municipal Act this meeting be reopened to the public.
Carried
15. Items Arising out of Camera
16. Adjournment
Resolution No: 2022-0424
Moved By: Jason Delaurier
Seconded By: Don Bobick
RESOLVED that this regular meeting of Council now adjourn at 9:35pm.
Carried