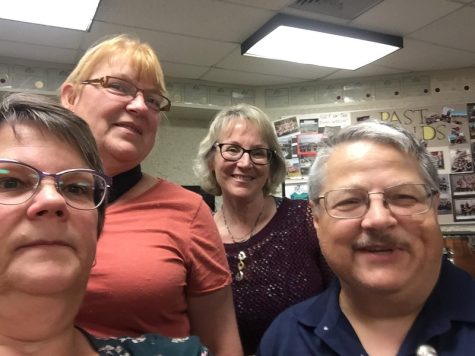 Pictured above L-R Karen Kosolowski (Flute), Lorraine Malcolm (Tenor Sax), Julie Kooistra (Director, French Horn, Trumpet), Kim Kosokowsky (Trumpet)
Submitted by: Jayne G. Leadbeater (Minish)
On Wednesday, 21 September 2022, the Swan Valley Community Band had their Beginning Day after a forced Covid19 hiatus. Our numbers are small, but mighty! Our Group is hoping for more attendees as everyone emerges from isolation & restrictions.
Two years to the Wednesday last April, after the Band was to return from lockdowns in March 2020, we had a short semester with a group of 12 former members. In addition, we had a couple of new musicians join us. A few family visitors dusted off their instruments and adeptly contributed to our annual participation in the Canada Day Picnic in the Park Celebration. One result of this is that one of those volunteers decided to seek out a Community Band to join where she resides.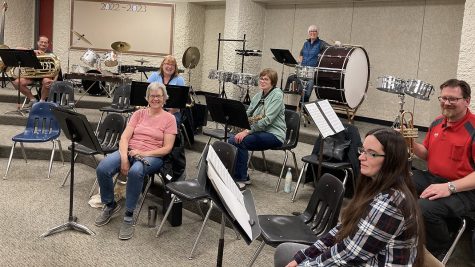 Our Swan Valley Community Band meets every Wednesday at 7:30 pm, currently at ESRSS Band Room. When renovations are completed at the SVRSS Band Room, we will return to that venue. Throughout the Season we perform two Concerts, a Christmas Concert at the beginning of December and a Spring Concert at the beginning of May.
Our Group welcomes anyone who wishes to participate: new, seasoned, whatever level of expertise. Everyone is willing to help with whatever is needed. Luckily, we have many members with musical teaching background or experience. Our Director, Julie Kooistra (204-734-0352), is a very capable instructor having been a Band Director/Conductor within the Swan Valley School Division.
Contact either Julie or myself, Jayne Leadbeater (204-731-0179) Manager/PR, should you wish to join us. It IS a time & place for making happy memories, amusement, and friendships!