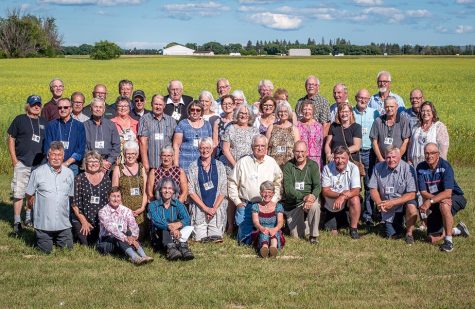 Click picture for a larger version.
Submitted by: Jayne Leadbeater
L-R BACK ROW Brian Oleksyn, Rob Falk, Keith Woolford, Lorne Henkelman, Leonard Harapiak (teacher), Doug Ter Horst, Peter Terekoff (Tea.), Lesley Stevens Henkelman, Barrie Hrappstead, Wilda Davy Teichroeb (Tea.), Al Poole, Gloria Olfrey Bewski, Wayne How, Lee Eggie, Bob McKay, Pete Hume, Terry Neely MIDDLE ROW Dave Doroschuk, Eugene Kowtzen (Tea.), Joanne Nerbas Goodman, Ed Cotton, Wendy Curry Kraushaar, Bobbie Wowchuk Stevenson, Dolores Bowles White, Betty Livingston Ter Horst, Linda Cotton Kowalevsky, Vi Cotton Van Landegham, Margaret Hrappstead Neely, Walter Brust, Jayne Minish Leadbeater KNEELING Ed Chartrand, Kathy Sleeman Child, Florence Brown Ward, Doreen Barker Burton, Philip Hugill, Angie Gryba Sasenuik, Pat Dixon Martin, Ron Kondra (Tea.), Terisa Taylor Humeniuk, Tom Stephens (Tea.), Garry Devlin, Jeff Gordon, Gord Zamzow Missing: Carolyn McKay, Committee Co-Chair
The Swan River Collegiate Institute 50th Reunion for the Class of 1970 was held August 1, 2022 (COVID19 Delayed for 2 years). Ecole Swan River South School used to be the Swan River Collegiate Institute. Over 1/3 of the original 150 class, including 5 teachers, were in attendance for the 2 day event.