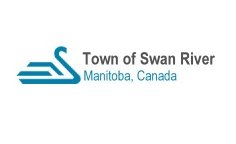 The Council of the Town of Swan River met on Tuesday, July 5, 2022 at 7:30 pm in the Town Council Chambers with Mayor Jacobson presiding along with Councillors Delaurier, Moriaux, Friesen, Bobick, and Whyte.
Also Present:
CAO D. Poole, CFO T. Gnida, Fire Chief D. Fedorchuk, Dir. of Works D. Harvey, Dir. of Recreation B. Fedorchuk
Absent:
Deputy Mayor Wintoniw
Delegation Attendees:
Media: Jeremy Bergen, Star and Times
1. Call meeting to order
Mayor Jacobson called the meeting to order at 7:30pm.
2. Adoption of the Agenda
Resolution No: 2022-0322
Moved By: Duane Whyte
Seconded By: Phylis Friesen
RESOLVED that the agenda for the July 5, 2022 regular meeting of Council be adopted.
Carried
3. Confirmation of the minutes
Resolution No: 2022-0323
Moved By: Don Bobick
Seconded By: Jason Delaurier
RESOLVED the minutes of the June 21, 2022 regular council meeting be approved.
Carried
4. Reception of Delegations and Hearings
5. Reception of Petitions
6. Communications
6.1 North-West Regional Library 2021 Financial Statements
Resolution No: 2022-0324
Moved By: Jason Delaurier
Seconded By: Phylis Friesen
RESOLVED that the North-West Regional Library audited financial statements for the year ended December 31, 2021 be received.
Carried
6.2 North-West Regional Library 2021 Annual Report
Resolution No: 2022-0325
Moved By: Jason Delaurier
Seconded By: Don Bobick
RESOLVED that the Northwest Regional Library Annual Report for 2021 be received.
Carried
6.3 To receive building permit applications
Resolution No: 2022-0326
Moved By: Duane Whyte
Seconded By: Jason Delaurier
RESOLVED that Building Permits 27/22 through 30/22 with a total estimated value of $18,700.00 be received.
Carried
6.4 Tax Reassessment 2023 Impact Report
Resolution No: 2022-0327
Moved By: Don Bobick
Seconded By: David Moriaux
RESOLVED that the Impact of Reassessment 2023 report from Manitoba Municipal Relations Assessment Services be received.
Carried
7. Reports of Committees
7.1 Director of Public Works Report
Resolution No: 2022-0328
Moved By: Phylis Friesen
Seconded By: Duane Whyte
RESOLVED the Director of Public Works report be received.
Carried
7.2 Other Reports
7.3 Council and CAO Reports
8. New Business
8.1 Lot Purchase/Lease Agreement- 845 Willow St. South
Resolution No: 2022-0329
Moved By: Duane Whyte
Seconded By: David Moriaux
RESOLVED the Chief Administrative officer accept and sign the offer of purchase for 845 Willow St. South in the amount of $40,179 plus taxes.
BE IT FURTHER RESOLVED the Chief Adminstrative Officer sign the lease agreement for the use of the storage building located at 845 Willow St South.
Carried
8.2 Adjusted 2022 Fee Schedule – Aquatic Centre Pool Passes
Resolution No: 2022-0330
Moved By: Phylis Friesen
Seconded By: Don Bobick
RESOLVED the amended 2022 fee schedule be received and approved.
Carried
8.3 Stray Animal Control
9. Unfinished Business
10. Accounts
10.1 To approve accounts
Resolution No: 2022-0331
Moved By: Phylis Friesen
Seconded By: Don Bobick
RESOLVED THAT the accounts as follows be hereby approved for payment:
1. General Account Cheques No. 29086 to No. 29128 totaling $134,341.06 as listed on Schedule A.
2. Direct Deposits totaling $775.00 as listed on Schedule B.
3. Direct Deposits totaling $4,079.43 as listed on Schedule C.
Carried
10.2 To set reserve bid for tax sale auction
Resolution No: 2022-0332
Moved By: David Moriaux
Seconded By: Duane Whyte
WHEREAS Section 365(2) of The Municipal Act provides that Council may in any year designate the immediately preceding year, or any earlier year, as the year for which properties, the taxes in respect of which are in arrears for the year, must be offered for sale by auction to recover the tax arrears and costs;
AND WHEREAS Section 372 of The Municipal Act provides that a municipality may set any terms or conditions for the sale of a property to be sold for taxes, and may set a reserve bid in the amount of the tax arrears and costs in respect of the property;
BE IT RESOLVED THAT the Town of Swan River place a reserve bid on each property included in the 2022 Tax Sale in the amount of tax arrears and costs owing in respect of the property.
Carried
10.3 To transfer budgeted amounts to reserves
Resolution No: 2022-0333
Moved By: Duane Whyte
Seconded By: Phylis Friesen
RESOLVED that the following contributions budgeted in the 2022 Financial Plan be made from the General Operating Fund to the following funds:
1. Equipment Replacement Reserve $170,000.00;
2. Fire Truck Replacement Reserve $40,000.00;
3. Employee Benefits Reserve $5,000.00;
4. Reserve for Rental Tables and Chairs $2,000.00;
5. Recreation Facilities Reserve for Major Repairs $40,000.00;
6. Reserve for Landfill Capital and Closure Costs $20,000.00;
7. Road Improvement Reserve $61,500.00;
7. Crime Prevention Reserve $50,000.00; and
8. Handi Transit Van Operating Fund $7,550.00.
Carried
10.4 To transfer to Handi Transit Van replacement reserve
Resolution No: 2022-0334
Moved By: Duane Whyte
Seconded By: Don Bobick
RESOLVED that the $500.00 contribution included in the 2022 Swan River Handi Transit Van operating budget be made to the Handi Transit Van Vehicle Replacement Reserve.
Carried
10.5 To approve assessment alterations
Resolution No: 2022-0335
Moved By: Don Bobick
Seconded By: Jason Delaurier
WHEREAS Section 326 of The Municipal Act provides that a municipality may impose supplementary taxes, and Subsections 300(6) and 300(6.1) provide that a municipality may cancel or reduce taxes, upon receipt of assessment alterations from Manitoba Assessment Services;
THEREFORE BE IT RESOLVED that the assessment alterations made by Manitoba Assessment Services on January 20 and 31, February 8 and 28, March 28, April 27, May 5, 9, 16, 24 and 30, and June 7 and 27 be made to the 2022 Property and Business Tax Rolls, with the resulting increases totaling $17,001.40 and the resulting reductions totaling $12,384.84.
Carried
11. By-Laws
12. Notice of Motion
13. In Camera
Resolution No: 2022-0336
Moved By: Duane Whyte
Seconded By: Don Bobick
RESOLVED that, pursuant to Section 152(3) of the Municipal Act, Council go into Committee and close the meeting to the public.
Arena Project
Town Growth Plan
Carried
14. Out of Camera
Resolution No: 2022-0337
Moved By: Phylis Friesen
Seconded By: Duane Whyte
RESOLVED that pursuant to Sections 152(4) of the Municipal Act this meeting be reopened to the public.
Carried
15. Items Arising out of Camera
16. Adjournment
Resolution No: 2022-0338
Moved By: Don Bobick
Seconded By: Phylis Friesen
RESOLVED that this regular meeting of Council now adjourn at 9:15 pm.
Carried