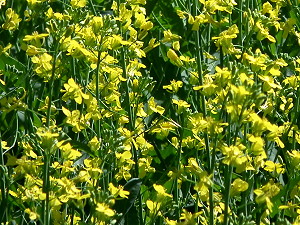 Manitoba Agriculture
Crop Report
July 12, 2022
Northwest Region
Mixed weather brought heat, high humidity, and severe thunderstorms across the region last week. Frequent rains continue to drown out acres in the Dauphin, Fork River, Grandview, Ste. Rose du Lac, and Laurier areas, in additionto acres already drowned out or left unseeded. Rain was welcome at The Pas. The Roblin to Inglis areas received the most rain this past week, between 25 to 33 mm. Localized showers brought rain not recorded on official weather monitoring networks.
Crops in the areas listed above are almost a month behind crops in other parts of the region. Cooler weather in the Northwest than other parts of Manitoba has led to less Growing Degree-Day accumulation, generally between 86 and 98% of normal.
Provincial Overview
Crops have advanced rapidly across all parts of Manitoba this past week, faster than many agronomists had expected. Rapidly growing crops have hastened crop flowering, and cereal and canola fungicide application is well underway.
Warm temperatures, high humidity, and rain in recent days has increased the risk for fusarium head blight and sclerotinia disease development in crops, and most farmers are choosing to use a preventative fungicide on spring cereals and canola. Spraying is also expected to begin in flax fields shortly, and continues on field peas for mycosphaerella.
Scattered and widespread rainfall last week slowed in-field herbicide and fungicide application by ground, and many farmers are choosing to spray fungicides by air this year, to reduce rutting on soft fields.
Despite good growing conditions, heavy rains have damaged crops, leaving large drowned out spots and the wet spring delayed seeding by over a month. Crops have caught up somewhat, and still look about 3 weeks behind normal in many areas of Manitoba.