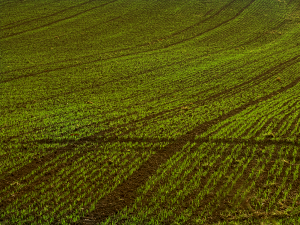 Manitoba Agriculture
Crop Report
June 21, 2022
Northwest Region
Extreme heat over the weekend brought severe thunderstorms, leading to heavy rains up to 100 mm within 15 minutes near Benito, causing flash flooding of fields, ditches and over roads. Some washouts occurred and while crops did stand up to the flooding, it appears topsoil was removed. Extreme winds knocked over trees and bins, and hail ranging in size from the size of a dime to nearly golf-ball diameter shredded several crops and pastures in a swath 9 miles wide to approximately 30 miles long.
The Pas, Swan Valley and Roblin are mostly complete at approximately 99% seeded; Dauphin/Grandview are approximately 85% complete; while Ste. Rose is approximately 95% complete. Ethelbert/Pine River and Laurier/McCreary are much delayed due to previous heavy rain and frequent rains continuing, and sit 40-50% complete. Regional seeding completion is 89% done.
Soil moisture is adequate to surplus in cropped and pasture fields in the region, recent rains have led to water pooling in low areas once again.
Provincial Overview
A final push to finish seeding this past week brought a small increase in planted acres. Significant amounts of reseeded canola occurred from severe flea beetle damage, and crusting and flooding to a lesser extent.
Extreme heat brought on severe thunderstorms in large parts of the Southwest, Northwest, and Interlake regions over the weekend and yesterday. Heavy rains caused overland flooding, damaging crops and local road networks. Hail fell in a swath from Roblin to the Swan Valley of varying sized, damaging crops there, while other areas are having to contend with standing water pooling on fields and drowning crops that had established earlier. The southern part of the Central region, and Eastern region have seen rapid crop growth and fewer damaging weather events this past week.
Saturated soils have stopped seeding progress once again, and those farmers yet to finish planting are coming to the realization that there will be unseeded acres on their farms this year. There were over 880,000 acres left unplanted as of June 20 seeding deadline, concentrated in the northwestern Interlake, along Lake Manitoba, in the Austin-Gladstone-Portage la Prairie area, and adjacent to the Red River.
Repeated rains and warm soils have led to widespread nitrogen fertilizer losses, either via leaching or denitrification. In-crop nitrogen-deficiency symptoms are showing up as chlorotic (yellowed) leaf margins, in combination with other symptoms of crop stress due to saturated soils. A drop in nitrogen prices (down approx. 30% from spring highs) may encourage in-crop top-dressing. The rush to seed crops wherever possible led to poorer seedbeds in some cases, which will impact in-season management and harvested yields.
Ag retailers are dealing with supply issues of glufosinate (Liberty) herbicide, and short-season crop seed. Short-season seed is either destined to be a reseed or uninsurable late-seeded grain (barley) or forage (millet, sorghum) crop. Canola seed supply remains tight, depending on location, but has been sufficient to supply reseed needs in most cases.
Potato crops are mostly hilled, fields have adequate moisture and are being sprayed for weeds. A few fields have seen overhead irrigation commence as a cooling method, in response to extreme heat.
Livestock have been turned out to pasture, and forage growth is generally sufficient. Biting insects and mosquitoes are becoming a nuisance for cattle.