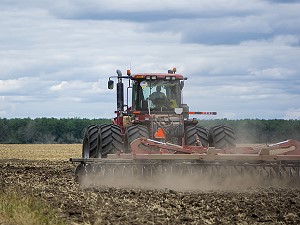 Manitoba Agriculture
Crop Report
May 31, 2022
Northwest Region
Better weather spurred seeding progress across the region to start the previous week, until thunderstorms on May 26 brought rain and hail to Mafeking, Birch River and Ethelbert districts. Cool and rainy weather since May 26 continued to slow progress. Field have been prioritized by dryness and resulting crop planting is scattered between spring cereals, canola, soybeans, and field peas. Switching between multiple crops has been time consuming for many farms, and adding to delays.
Overland flooding around Lakes Dauphin and Winnipegosis has inundated land adjacent to those lakes, with seeding not likely to occur there this year. Road washouts have become more severe and frequent in the Ethelbert and Pine River districts, with continued heavy rainfall, limited access to many fields and pastures.
Seeding progress was most advanced in The Pas at 50% complete, and 40% done in the Swan Valley and Roblin areas, with less than 20% of acres seeded near Dauphin and Ste. Rose du Lac.
Provincial Overview
Substantial rains fell again last week in the Southwest and Northwest regions, followed by a Colorado Low system with thunderstorms and strong winds in the Central, Interlake, and Eastern regions yesterday and today. The past 24-hour period has brought rainfall totals up to 63 mm and counting at Dominion City, with rainfall generally ranging between 20 to 55 mm across the Central, Interlake, and Eastern regions, with a band stretching into the Southwest from Killarney to Wawanesa-Glenboro area.
Prior to the most recent rain, producers across the province were able to make rapid progress, seeding over 25% of the crop across the province in a span of three to four days – ahead of the normal rate of progress, given the time crunch and the very long hours worked by farmers during this time. Seeding progress remains highly variable from one local area to the next, with dozens of farmers that have not started planting due to conditions. Approximately 4 million acres have been planted across Manitoba.
Most soils across the province remain wet, forcing farmers to seed whatever crop they can on their driest ground. Farmers prioritized corn, sunflowers, field peas, soybeans, and potatoes during the past week, and are now refocusing on spring wheat, oats, and canola since approaching seeding deadlines are unlikely to be met for full coverage on corn and soybeans. Seeding will likely resume at the start of next week in much of Manitoba. Wet spots that have been left in seeded fields will likely remain unplanted this year.
Standing water is visible in many fields across all regions, which may impact germination rate and seedling survivability if fields remain saturated for more than a few days. Broadcast canola seeding has occurred, while farmers are attempting to dry ground using shallow tillage or harrowing in preparation for all crops.
Manitoba farmers' outlook for 2022 has been discouraged by poor weather, logistic delays, and extreme commodity risk. Farmers, livestock producers, ag-retailers and support networks are encouraged to connect with each other, and reach out to counselling and stress support services as needed.