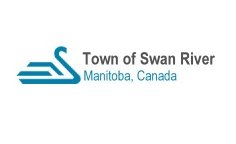 The Council of the Town of Swan River met on Tuesday, April 5, 2022 at 7:30 pm in the Town Council Chambers with Deputy Mayor Wintoniw presiding along with Councillors Moriaux, Friesen, Bobick, Delaurier, and Whyte.
Also Present:
CAO D. Poole, CFO T. Gnida, Fire Chief D. Fedorchuk, Dir. of Works D. Harvey, Dir. of Recreation B. Fedorchuk
Public Hearing Attendees:
Delegation Attendees:
Media: Jeremy Bergen, Star and Times
1. Call meeting to order
Mayor Jacobson called the meeting to order at 7:30.
2. Adoption of the Agenda
Resolution No: 2022-0151
Moved By: Duane Whyte
Seconded By: Don Bobick
RESOLVED that the ammended agenda for the April 5, 2022 regular meeting of Council be adopted.
Carried
3. Confirmation of the minutes
Resolution No: 2022-0152
Moved By: Phylis Friesen
Seconded By: Don Bobick
RESOLVED the minutes of the March 15, 2022 regular council meeting be approved.
Carried
4. Reception of Delegations and Hearings
5. Reception of Petitions
6. Communications
6.1 Letter from Nicole Bobick, Better Beginnings Coordinator
Resolution No: 2022-0153
WHEREAS the Better Beginnings program is a proactive measure to support families and to assist with the development of skills and education of pre-school children;
AND WHEREAS the Veterans Community Hall back room is an ideal location for such programming;
AND WHEREAS Better Beginnings has requested a reduced rate for the next six-weeks of rentals;
THEREFORE BE IT RESOLVED that a grant to the Better Beginnings group of $660.00 be approved.
Carried
6.2 Letter from Gary Wowchuk, Swan Valley School Division
Resolution No: 2022-0154
Moved By: Duane Whyte
Seconded By: Phylis Friesen
RESOLVED that the letter from Chairman of the Board of Trustees Gary Wowchuk of Swan Valley School Division dated March 7, 2022 be received.
Carried
6.3 UCN – Invitation to Nurse Graduate Pinning Ceremony
Resolution No: 2022-0155
Moved By: Don Bobick
Seconded By: Duane Whyte
RESOLVED that the invitation from the University College of the North for a representative from the Town of Swan River to speak at the 2022 Nursing Pinning Ceremony on June 29, 2022 be received.
Carried
6.4 Email from Western Financial Group re AMM General Insurance Program
Resolution No: 2022-0156
Moved By: Don Bobick
Seconded By: Jason Delaurier
RESOLVED that the email from Western Financial Group dated March 29th, 2022 regarding AMM General Insurance Program Renewal be received.
Carried
6.5 Emailed letter from Minister of Canadian Heritage
Resolution No: 2022-0157
Moved By: Don Bobick
Seconded By: Duane Whyte
RESOLVED that the letter from the Minister of Canadian Heritage emailed March 29th, 2022 be received.
Carried
6.6 Building permit applications
Resolution No: 2022-0158
Moved By: Jason Delaurier
Seconded By: Phylis Friesen
RESOLVED that Building Permits 7/22 through 8/22 with a total estimated value of $285,000.00 be received.
Carried
6.7 Letter from Municipal Relations re MDTP final grant
Resolution No: 2022-0159
Moved By: Jason Delaurier
Seconded By: Duane Whyte
RESOLVED that the letter from the Minister of Municipal Relations dated March 31, 2022 regarding the Mobility Disadvantaged Transportation Program be received.
Carried
7. Reports of Committees
7.1 Director of Public Works Report
Resolution No: 2022-0160
Moved By: Phylis Friesen
Seconded By: Don Bobick
RESOLVED the Director of Public Works report be received.
Carried
7.2 Protective Services Report
Resolution No: 2022-0161
Moved By: Don Bobick
Seconded By: David Moriaux
RESOLVED the Protective Services Reports for February and March 2022 be received.
Carried
7.3 Other Reports
7.4 Council and CAO Reports
8. New Business
8.1 Rescheduling of Regular Meeting
Resolution No: 2022-0162
Moved By: Phylis Friesen
Seconded By: Jason Delaurier
RESOLVED the April 19th regular scheduled council meeting be rescheduled to take place Tuesday, April 26th at 7:30pm in Council Chambers.
Carried
8.2 To receive SV Chamber of Commerce 2020 financial statements
Resolution No: 2022-0163
Moved By: Don Bobick
Seconded By: Phylis Friesen
RESOLVED that the Swan Valley Chamber of Commerce Audited Financial Statements for the Year Ended December 31, 2020 be received.
Carried
8.3 To approve annual grant to SV Chamber of Commerce
Resolution No: 2022-0164
Moved By: Duane Whyte
Seconded By: Phylis Friesen
RESOLVED that Council authorize payment of the annual grant of $8,000.00 to the Swan Valley Chamber of Commerce to be used towards the Chamber's projects and operations.
Carried
8.4 Fire Extinguisher Purchase – Purchase Eclipse Services
Resolution No: 2022-0165
Moved By: Phylis Friesen
Seconded By: David Moriaux
WHEREAS the Town has a vested interest in providing for safe protection of town resources and infrastructure;
RESOLVED that the Town of Swan River hereby approves the purchase of necessary fire extinguishers to replace all existing extinguishers from Eclipse Fire and Safety for no more than $15,436.00 plus applicable taxes.
Carried
8.5 Town of Swan River – Accessibility Plan
Resolution No: 2022-0166
Moved By: Don Bobick
Seconded By: Jason Delaurier
RESOLVED that the Town of Swan River Accessibility Plan be adopted as received.
Carried
8.6 Request to close 100 block of 5th Ave North- Fathers Day Car Show
Resolution No: 2022-0167
Moved By: Phylis Friesen
Seconded By: Don Bobick
RESOLVED that the 100 Block of 5th Ave North close on Fathers Day June 19th, 2022, between the hours of 8:00AM to 5:00PM; in order to host the 2022 annual Fathers Day Car Show.
Carried
8.7 Road name for Plan 54315
Resolution No: 2022-0168
Moved By: Don Bobick
Seconded By: Duane Whyte
RESOLVED that administration be authorized to begin the process of renaming Public Road on Plan 54315 to "Park Drive East"
Carried
9. Unfinished Business
10. Accounts
10.1 To approve accounts
Resolution No: 2022-0169
Moved By: Phylis Friesen
Seconded By: David Moriaux
RESOLVED THAT the accounts as follows be hereby approved for payment:
1. General Account Cheques No. 28720 to No. 28772 totaling $199,735.08 as listed on Schedule A.
2. Payroll Account Cheques No. 5054 to No. 5061 totaling $94,135.74 as listed on Schedule B.
3. Payroll Account Cheques No. 5062 to No. 5067 totaling $14,512.47 as listed on Schedule C.
4. Payroll Account Cheques No. 5068 to No. 5074 totaling $97,275.95 as listed on Schedule D.
5. Direct Deposits totaling $725.00 as listed on Schedule E.
6. Direct Deposits totaling $9,702.71 as listed on Schedule F.
Carried
10.2 To approve assessment alterations
Resolution No: 2022-0170
Moved By: Don Bobick
Seconded By: David Moriaux
WHEREAS Section 326 of The Municipal Act provides that a municipality may impose supplementary taxes, and Subsection 300(6.1) provides that a municipality may cancel or reduce taxes, upon receipt of assessment alterations from Manitoba Assessment Services;
THEREFORE BE IT RESOLVED that the assessment alterations provided by Manitoba Assessment Services on March 28th, 2022 be made to the Business Tax Roll, with the resulting increase amounting to $43.89 and the resulting decrease amounting to $43.89.
Carried
10.3 To adopt the January 2022 financial statements
Resolution No: 2022-0171
Moved By: Jason Delaurier
Seconded By: Don Bobick
RESOLVED that the Financial Statements for the One Month Ending January 31st, 2022 be adopted as received.
Carried
10.4 To adopt the February 2022 financial statements
Resolution No: 2022-0172
Moved By: Phylis Friesen
Seconded By: David Moriaux
RESOLVED that the Financial Statements for the Two Months Ending February 28th, 2022 be adopted as received.
Carried
10.5 To add unpaid accounts to taxes
Resolution No: 2022-0173
Moved By: Jason Delaurier
Seconded By: Don Bobick
WHEREAS the Town of Swan River used municipal equipment, materials and labour to carry out private works on private property under The Municipal Act clause 250(2)(e), and set the fees and charges for the works under clause 252(1)(a) of The Act;
AND WHEREAS sufficient time has been allowed for payment of such outstanding amounts as listed on the attached Schedule "A" totaling $1,303.90;
THEREFORE BE IT RESOLVED THAT each of the unpaid amounts listed on Schedule "A" be added to the corresponding property tax roll and collected in that manner under subsection 252(2) of The Act;
BE IT FURTHER RESOLVED THAT notice be sent to each property owner detailing the amounts being added to the taxes and advising that interest will accrue on said amounts in the same manner as for unpaid property taxes effective May 1st, 2022.
Carried
11. By-Laws
11.1 First Reading – By-Law 12/2022 – Procedure Bylaw Amendment
Resolution No: 2022-0174
Moved By: Phylis Friesen
Seconded By: Don Bobick
RESOLVED that By-Law 12/2022, being a by-law to amend the Procedures Bylaw, be read a First time.
Carried
11.2 Second Reading – By-Law 1/2022 – Organization Bylaw
Resolution No: 2022-0175
Moved By: Jason Delaurier
Seconded By: Duane Whyte
RESOLVED that By-Law 1/2022, being a by-law to amend the Organization Bylaw, be read a second time.
Carried
11.3 Second Reading By-Law 9/2022 Use of Municipal Resources in an Election By-Law
Resolution No: 2022-0176
Moved By: Duane Whyte
Seconded By: Don Bobick
RESOLVED that By-Law 9/2022, being a by-law to establish rules and procedures for the use of municipal resources during the 42-day period before a general election, be read a second time.
Carried
11.4 Second Reading – By-Law 11/2022 to establish a recreation equipment reserve
Resolution No: 2022-0177
Moved By: Duane Whyte
Seconded By: Phylis Friesen
RESOLVED that By-Law 11/2022, being a by-law to establish a recreation equipment replacement reserve fund, be read a second time.
Carried
11.5 Second Reading – By-Law 13/2022 Amendment to By-Law Enforcement
Resolution No: 2022-0178
Moved By: David Moriaux
Seconded By: Don Bobick
RESOLVED that By-Law 13/2022, being amendment to the bylaw enforcement establishing a penatly for the violation of Bylaw 9/2022, be read a second time.
Carried
11.6 Second Reading – By-Law 14/2022 Exempt certain lands from municipal taxation
Resolution No: 2022-0179
Moved By: Phylis Friesen
Seconded By: Jason Delaurier
RESOLVED that By-Law No. 14/2022, being a by-law of the Town of Swan River providing for exemption of certain lands from taxation for municipal purposes, be read a second time.
Carried
11.7 First Reading – By-Law 17/2022 to establish a crime prevention reserve
Resolution No: 2022-0180
Moved By: Duane Whyte
Seconded By: David Moriaux
RESOLVED that By-Law 17/2022, being a By-Law to Establish a Crime Prevention Reserve Fund, be read a first time.
Carried
11.8 Third Reading – By-Law 1/2022 – Organization Bylaw
Resolution No: 2022-0181
Moved By: Don Bobick
Seconded By: Duane Whyte
RESOLVED that By-Law 1/2022, being a by-law to amend the Organization Bylaw, be read a third time and passed.
Don Bobick – yes
Jason Delaurier – yes
Phylis Friesen – yes
Lance Jacobson – absent
David Moriaux – yes
Duane Whyte – yes
Johnny Wintoniw – yes
Carried
11.9 Third Reading – By-Law 9/2022 Use of Municipal Resources in an Election By-Law
Resolution No: 2022-0182
Moved By: Don Bobick
Seconded By: Duane Whyte
RESOLVED that By-Law 9/2022, being a by-law to establish rules and procedures for the use of municipal resources during the 42-day period before a general election, be read a third time and passed.
Don Bobick – yes
Jason Delaurier – yes
Phylis Friesen – yes
Lance Jacobson – absent
David Moriaux – yes
Duane Whyte – yes
Johnny Wintoniw – yes
Carried
11.10 Third Reading – By-Law 13/2022 Amendment to By-Law Enforcement
Resolution No: 2022-0183
Moved By: Duane Whyte
Seconded By: Don Bobick
RESOLVED that By-Law 13/2022, being amendment to the bylaw enforcement establishing a penatly for the violation of Bylaw 9/2022, be read a third time and passed.
Don Bobick – yes
Jason Delaurier – yes
Phylis Friesen – yes
Lance Jacobson – absent
David Moriaux – yes
Duane Whyte – yes
Johnny Wintoniw – yes
Carried
11.11 Third Reading – By-Law 11/2022 to establish a recreation equipment reserve
Resolution No: 2022-0184
Moved By: Phylis Friesen
Seconded By: Duane Whyte
RESOLVED that By-Law 11/2022, being a by-law to establish a recreation equipment replacement reserve fund, be read a third time and passed.
Don Bobick – yes
Jason Delaurier – yes
Phylis Friesen – yes
Lance Jacobson – absent
David Moriaux – yes
Duane Whyte – yes
Johnny Wintoniw – yes
Carried
11.12 Third Reading – By-Law 14/2022 Exempt certain lands from municipal taxation
Resolution No: 2022-0185
Moved By: Don Bobick
Seconded By: David Moriaux
RESOLVED that By-Law No. 14/2022, being a by-law of the Town of Swan River providing for exemption of certain lands from taxation for municipal purposes, be read a third time and passed.
Don Bobick – yes
Jason Delaurier – yes
Phylis Friesen – yes
Lance Jacobson – absent
David Moriaux – yes
Duane Whyte – yes
Johnny Wintoniw – yes
Carried
12. Notice of Motion
13. In Camera
Resolution No: 2022-0186
Moved By: Phylis Friesen
Seconded By: Don Bobick
RESOLVED that, pursuant to Section 152(3) of the Municipal Act, Council go into Committee and close the meeting to the public.
– Federal Electoral Boundry Review
– Pumper 1 Replacement
– Cemetery Procedures
– Fire Extinguishers
Carried
14. Out of Camera
Resolution No: 2022-0187
Moved By: Phylis Friesen
Seconded By: Duane Whyte
RESOLVED that pursuant to Sections 152(4) of the Municipal Act this meeting be reopened to the public.
Carried
15. Items Arising out of Camera
16. Adjournment
Resolution No: 2022-0188
Moved By: Phylis Friesen
Seconded By: Don Bobick
RESOLVED that this regular meeting of Council now adjourn at 9:46pm.
Carried