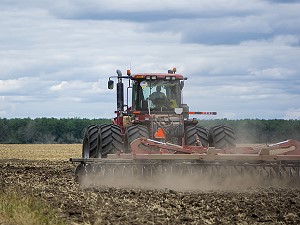 Manitoba Agriculture
Crop Report
May 17, 2022
Northwest Region
Substantial rains fell across the region on Friday, along with strong winds. Ethelbert and Garland received the highest amounts of rain, totaling approximately 90 mm. Flooding and washouts of major highway routes and rural roads and bridges led to several regional municipalities declaring states of local emergency.
Prior to Friday's storm, one to two days of seeding progress occurred in the Swan Valley and Roblin districts, leading to less than 5% of spring wheat, and 5% of peas planted.
Provincial Overview
Continued wet soils and an unfavourable forecast has further delayed the bulk of seeding starts in Manitoba. Heavy rainfall in Western Manitoba stopped progress in the Southwest and Northwest regions, while the Eastern, Central, and Interlake regions got started over the weekend. Many fields still have wet spots, and farmers are attempting to find the driest field to plant, for almost any crop, and still having to dodge soft areas. Cool conditions have persisted into mid-May, with lower corn heat unit (CHU) accumulation leading growers to consider the timeframe left for crop maturity for the season between May 1, or June 1and September 30.