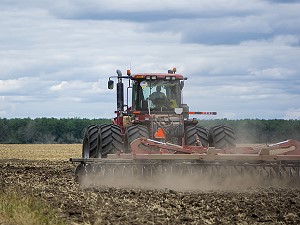 Manitoba Agriculture
Crop Report
May 10, 2022
Northwest Region
Southern parts of the region received snowfall with the most recent storm, and contributed to seeding delays. Lowlying areas remain saturated. A limited start to fieldwork/fertilizer application began in the Swan River and Roblin districts, but has been stalled by Monday's rain. A few weeds have emerged with recent warmer temperatures. Winter cereals are in good condition. Seeding operations could begin later this week.
Provincial Overview
The crop year for Manitoba farmers begins with extremely challenging spring conditions, moving from a very dry 2021 to high overwinter snowfall accumulation followed by a very wet April. Overland flooding has impacted major transportation routes, delaying shipment of ag commodities and inputs. Soils have been left saturated across much of agro-Manitoba, with regularly rains rewetting soils. Seeding operations have been very limited. Standing water is common in fields across Manitoba. A few scattered fields were planted in the Brandon to Rivers area last weekend. Overnight freezing temperatures continued in all regions, with daytime highs reaching the low 20's.