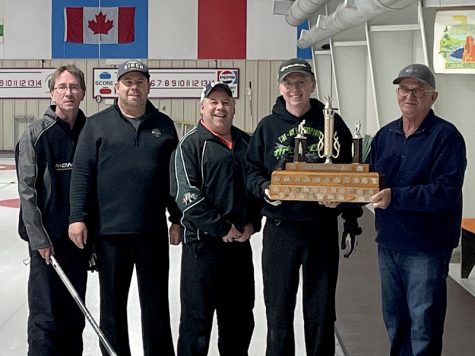 2021/22 Duck Mountain Super League champions:
Neil Scales, lead; Scott Tibble, second; Kelly Tibble, third; Brent Scales, skip, and Tom Jordens, DMSL executive.
Submitted Story |
After seven weeks of round-robin competition, Duck Mountain Super League (DMSL) curling teams from Canora, Norquay, Swan River, Benito, Madge Lake and Kamsack met for play-offs at the Broda Sportsplex in Kamsack.
The final game was played March 8, 2022 between the Brent Scales Rink, sponsored by The Westwood Inn and Royal LePage of Swan River and the Rick Kinaschuk Rink sponsored by W.F. Schneider and Son of Benito. Brent and Neil Scales, curling with Scott and Kelly Tibble won the final game, becoming the new Duck Mountain Super League champions.