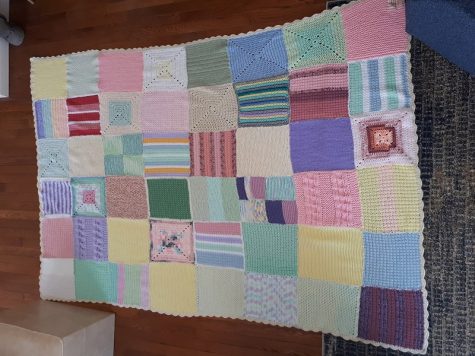 Submitted by: Mo Koetting |
Blankets for Canada was started in 1998 in Lethbridge AB. The chapter started in November in Swan River is the first chapter in MB. It is an initiative that invites crafters to use up their small, left-over balls of yarn from projects they have done, by knitting or crocheting 10" squares. Any stitch can be used so long as it is a solid stitch, without gaps or spaces in it as our primary focus is warmth. The squares are gathered and stitched into blankets, 6 squares x 8 squares (60" x 80") large, large enough to keep an adult warm. We also accept new blankets and quilts.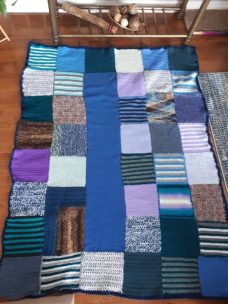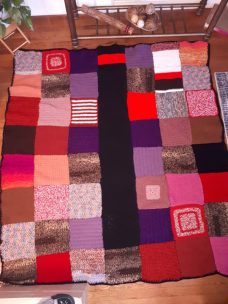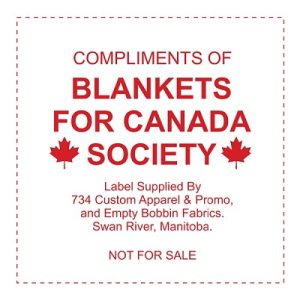 Each blanket is labelled with a tag stating "Provided courtesy of Blankets for Canada. Not for Sale". The labels were provided courtesy of 734 Custom Apparel as well as The Empty Bobbin.
Currently, squares can be dropped off at This 'N That on Main St., or with me.
Completed blankets need to be dropped off with me.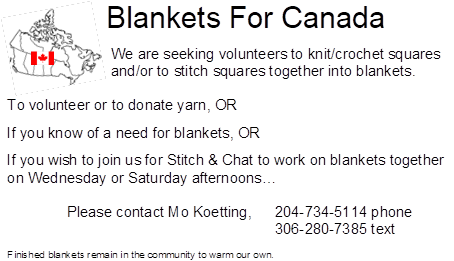 All blankets remain in the community of Swan River first, and then to the valley, but always within our own community. To date, five blankets have been distributed and a request for 20 blankets is half way filled with 10 blankets completed, labelled and ready to go.
The blankets can be requested by any service or care industry that works with our vulnerable. Blankets can go to shelters, long-term care homes, police, mental health, hospitals, fire departments, EMS, crisis agencies, the homeless, immigrants, anywhere there is a need!
The support from the community so far has been amazing. Although it isn't widely known that this opportunity exists, the people who have learned about it have stepped up in a remarkable way. I love this community!