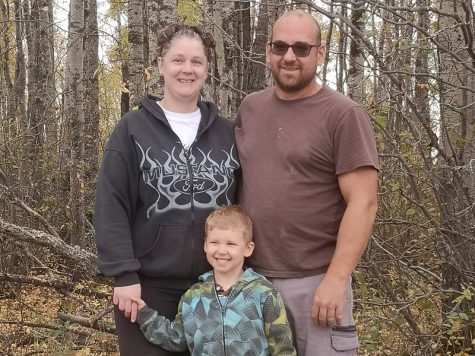 Submitted by: Swan Lake Watershed District
The Swan Lake Watershed District team would like to introduce our first members to the GROW program! Kris and Lori Zagrobelny have lived outside of Minitonas, Manitoba for four years. In this time, they have changed farming practices to better suit the environmental challenges that they have been seeing on their property. From cereal crops to now, hay land, and introducing trees and native grasses, their acreage supports wildlife, and pollinators. Improvements that they are working towards, will reduce the wind erosion occurring on their land and help mitigate further damage to the exposed soil.
How did they get involved with GROW?
It started with erosion issues and became a partnership as they expressed interest in positively impacting the environment and introducing new activities that would be beneficial in reaching their farming goals. The Swan Lake Watershed team is committed to assisting them with attaining their goals and deliver support whenever possible, every step of the way.
What other goals do they have in store and how does GROW help achieve them?
Their next project is to cultivate a grassy area to introduce native plant species which can be achieved by potential cost-sharing through a project application which helps to reduce the financial pressures of such projects.
Are there other ways to assist in your farming practices?
There is also the ability to utilize funding through AgAction Manitoba when you complete an Environmental Farm Plan (EFP). This assists farmers with environmental commitment and peace of mind but also, educates. The course is designed to help identify risks and benefits while providing best management strategies in farming operations. A free course with benefits that lasts 5 years is a win win.
What can GROW do for you?
There are several other unique and diverse aspects to the program, all depending on what you might have on your property! So, each project is unique to you! This can be anything from and beyond ecological goods and services such as: Class 1 or 2 wetlands, shelterbelts, pasture land, and riparian areas
What has the GROW program done already?
The 2021 season kicked off the GROW program and resulted in 295 acres "conserved" through several landowners. This year, Swan Lake Watershed District is hoping to triple that amount.
Why choose the GROW program?
Environmental improvements made through this program will assist our watershed and Manitoba moving forward. If there are ecological goods and services on your property, we strongly encourage you to take advantage of this program.
"We are happy to have the help and incentives from the GROW program at Swan Lake Watershed District. Give them a call to find out if this program is a good fit for you too" The Zagrobelny's