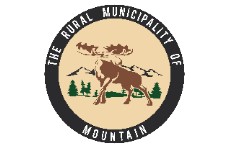 Minutes of the Regular Meeting of Council of the Rural Municipality of Mountain held Wednesday, October 27th, 2021 at the RM of Mountain Coucil Chambers in Birch River, MB.
Members Present:
Reeve: Robert Hanson
Councillors: Wilmer Malcolm, Stephen Nadolney, Nestor Rizok, Connie Forbes, Arnie Pedersen and Brad Wyatt.
Councillor Nadolney was absent with notice.
CAO Paige Wozny was present and acted as secretary.
Finance Officer Kim Paterson was also present.
1. Call to Order
The meeting was called to order at 10:00 a.m. by Reeve Robert Hanson, quorum being present.
2. Adoption of Agenda
Resolution No: 2021/346
Moved By: Brad Wyatt
Seconded By: Connie Forbes
BE IT RESOLVED THAT the Agenda for the October 27th, 2021 Regular Meeting of Council be adopted as presented.
For: 6 Against:
CARRIED UNANIMOUSLY
Councillor Malcolm joined the meeting.
3. Matters Arising from Minutes
Resolution No: 2021/347
Moved By: Arnie Pedersen
Seconded By: Nestor Rizok
BE IT RESOLVED THAT the Minutes of the regular meeting of Council held October 13th, 2021 be adopted as presented, all requirements having been complied with.
For: 7 Against:
CARRIED UNANIMOUSLY
4. By-Laws & Policies
5. In Camera Discussions
5.1 In Camera
Resolution No: 2021/348
Moved By: Stephen Nadolney
Seconded By: Wilmer Malcolm
WHEREAS Section 152(3) of The Municipal Act and Section 8.8 of the By-Law No. 01/16 authorize Council to close a meeting to the public to discuss certain matters;
THEREFORE BE IT RESOLVED THAT Council of the Rural Municipality of Mountain meet as a committee to discuss personnel and contract negotiations.
For: 7 Against:
CARRIED UNANIMOUSLY
5.2 Out of Camera
Resolution No: 2021/349
Moved By: Arnie Pedersen
Seconded By: Wilmer Malcolm
BE IT RESOLVED THAT the meeting of the committee of the whole be adjourned, and that the regular meeting of Council of the Rural Municipality of Mountain be re-opened to the public.
For: 7 Against:
CARRIED UNANIMOUSLY
5.3 2022 Wage
Resolution No: 2021/350
Moved By: Stephen Nadolney
Seconded By: Arnie Pedersen
BE IT RESOLVED THAT Council of the Rural Municipality of Mountain hereby make wage review adjustments based on COLA and Preformance for all employees beginning January 1, 2022 as per the recommendations of the Personell Committee and CAO.
For: 6 Against: 1
CARRIED
5.4 Current Road Maintenance Contract: Termination
Resolution No: 2021/351
Moved By: Connie Forbes
Seconded By: Nestor Rizok
WHEREAS the RM of Mountain currently is in contract to with South Mountain Ent. to provide Road Maintenance Services for both Mountain North and Mountain South;
AND WHEREAS a request to terminate such contract immediately was recieved by the Municipal Office from the contractor;
THEREFORE BE IT RESOLVED THAT Council of the Rural Municipality of Mountain hereby terminate the Mountain North and Mountain South contract effective immediately, with the following conditions:
Final payment for services rendered shall be completed on October 27th, 2021 and there is no further work oustanding;
Final payment shall be made in accordance with such agreement to South Mountain Enterprises;
No further requests for work shall be submitted under such Agreement;
As per Section 6. e) of the current agreement, the indemnities contained in such agreement shall survive the termination of this Agreement;
AND THAT the Reeve and CAO be authorized to sign on behalf of the Municipality.
For: 7 Against:
CARRIED UNANIMOUSLY
5.4.1 Road Maintenance Contract: Review Draft
6. Financial
6.1 Financial Statements: Review
6.2 Pine River Water Plant Testing Equipment
Resolution No: 2021/352
Moved By: Stephen Nadolney
Seconded By: Wilmer Malcolm
BE IT RESOLVED THAT Council of the Rural Municipality of Mountain hereby approve the purchase of a digital colorimeter for the Pine River Water Plant based on the recommendation of the Office of Drinking Water to a maximum of $800.00.
For: 7 Against:
CARRIED UNANIMOUSLY
6.3 Accounts Payable
Resolution No: 2021/353
Moved By: Arnie Pedersen
Seconded By: Connie Forbes
BE IT RESOLVED THAT Cheque Nos.20211209 to 20211251 be approved for payment in the amount of $45,634.05, including Direct Deposit Payroll in the amount of $8,304.12 as attached hereto as Schedule 'A';
For: 7 Against:
CARRIED UNANIMOUSLY
7. Personnel
7.1 Backup Water Plant Operator: Pine River
Resolution No: 2021/354
Moved By: Arnie Pedersen
Seconded By: Wilmer Malcolm
BE IT RESOLVED THAT Council of the Rural Municipality of Moutnain hereby hire Jade-Rae Rody as Pine River Water Plant Backup Operator;
AND THAT wages and terms of employment be as stated in Schedule 'A' attached hereto.
For: 7 Against:
CARRIED UNANIMOUSLY
7.2 Backup Waste Site Operator: Mafeking
Resolution No: 2021/355
Moved By: Arnie Pedersen
Seconded By: Connie Forbes
BE IT RESOLVED THAT Council of the Rural Municipality of Moutnain hereby hire Dale Atchison as the Mafeking Transfer Station Backup Attendant;
AND THAT wages and terms of employment be as stated in Schedule 'A' attached hereto.
For: 7 Against:
CARRIED UNANIMOUSLY
8. WARD REPORTS & Work Orders
Resolution No: 2021/356
Moved By: Connie Forbes
Seconded By: Stephen Nadolney
BE IT RESOLVED THAT Council of the Rural Municipality of Mountain hereby approve work orders #75/2021 to 76/2021 attached hereto.
For: 7 Against:
CARRIED UNANIMOUSLY
9. Delegations/Petitions
10. Meeting Attendance and Reports
11. General Business
11.1 Community Foundation Agreements
Resolution No: 2021/357
Moved By: Stephen Nadolney
Seconded By: Nestor Rizok
BE IT RESOLVED THAT Council of the Rural Municipality of Mountain hereby enter into the Partnership Agreement with the Friends of Cowan Park and the Birch River Recreation Commission for the purpose of applying for Community Foundation grants as per Schedule A attached hereto;
AND FURTHER BE IT RESOLVED THAT by approving such agreements it in no way financially obligates Council of the RM of Mountain to pay for any overages that such grants may not provide for;
AND THAT the CAO be authorized to sign on behalf of the municipality.
For: 7 Against:
CARRIED UNANIMOUSLY
11.2 LWN Holdings: Fire Concerns
Resolution No: 2021/358
Moved By: Stephen Nadolney
Seconded By: Arnie Pedersen
WHEREAS on June 29th, 2021 a letter was sent requiring the property owner of NW 24-34-23W to obtain a burning permit;
AND WHEREAS no permits to date were requested or issued for that location and there has been further fire department involvement at that location;
THEREFORE BE IT RESOLVED THAT Council of the Rural Municipality of Mountain hereby issue a second offence fine under the Fire Prevention and Emergency Services By-Law in the amount of $1,500.00
For: 6 Against: 1
CARRIED
12. Communications
12.1 LUD of Mafeking Minutes: Review
12.2 Parkland RCMP Quarterly Reports: Review
12.3 MVSD Virtual Budget Consultation: Review
13. Adjournment
Resolution No: 2021/359
Moved By: Nestor Rizok
Seconded By: Wilmer Malcolm
BE IT RESOLVED THAT the Regular Meeting of Council of the Rural Municipality of Mountain be adjourned to meet again on November 10th, 2021.
Meeting adjourned at 12:10pm
For: 7 Against:
CARRIED UNANIMOUSLY